Time sensitivity in fresh market fruit production is a huge hurdle to overcome every season – but storage innovations like those achieved by RipeLocker suggest a cold supply chain future with minimal risk of decay. In partnership with Blueberry Hill, RipeLocker has announced the successful freshness outcome of its eight-week trial of storing blueberries in its containers for shipping and storing perishable goods.
RipeLocker's containers are produced using an injection mold, designed for reuse within the existing cold chain. "We were extremely pleased with the quality of the blueberries that had been stored in RipeLocker containers for eight weeks. They looked like they came right out of the field," said Jeff Weijohn, owner of Blueberry Hill. If the company decides to adopt the technology, it expects to be able to use each container four to five times each season.
Reusability is not the only element of RipeLocker's containers that lends itself to sustainability. The product's capacity to slow the decaying process, reducing the amount of produce that needs to be discarded due to decay while in storage. A reduction in food waste means less need (and subsequent use of resources) to produce additional crops. The containers enable produce and flower growers to ship via land or ocean instead of relying on air freight – resulting in, according to RipeLock, 44 times less carbon emissions. Lastly, RipeLocker containers enable bulk shipments, so packaging can be reduced with larger product increments.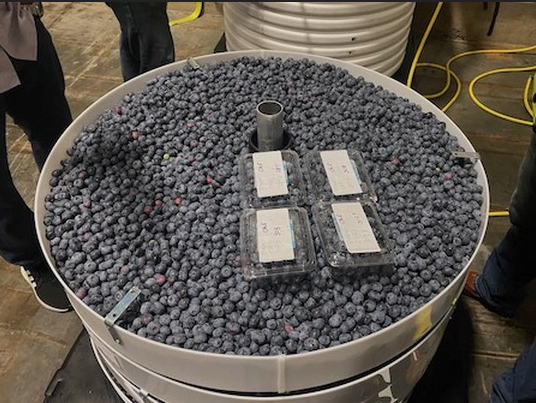 The
technology
behind
the
containers
RipeLocker containers manage the atmospheric pressure, humidity and gas composition (oxygen and CO2) within the vessel to extend the life of fresh produce and flowers. Suppressing pathogen growth, considerably less decay will occur during storage – and RipeLocker containers can also provide the vehicle for delivering organic fungicide vapors to kill the pathogen.
Based on the specific needs of each type of fresh produce or flower, RipeLocker tailors operating parameters, such as internal pressure, oxygen and CO2 levels to optimize the longevity and freshness. The system responds to changes in the storage or shipping environment, making automatic precise adjustments to prevent damage and reduce decay.
Improve your packing with better tracking
How can a bulk storage container system like RipeLocker be documented throughout the supply chain? Croptracker's customizable workflow makes it easy to maintain traceability.
Harvested inventory can be logged at different points of intake and processing using the Packing, Storage, and Shipping modules.
Record raw inventory being packed into retail or bulk packaging – like the blueberries in RipeLocker's containers – and trace your inventory with new identification as a commodity's unit volume or state of processing changes.
Re-categorize inventory to account for changes in state as needed, whether it's because of moisture loss while in storage, or is processed into a new product. Use the lot code for the original bin of fruit, and change the units the lot number represents to accurately reflect the crop's transformation.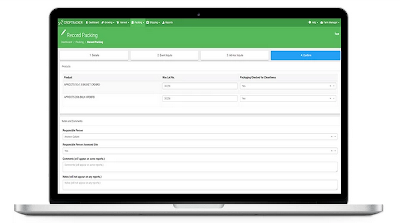 Not
just
for
blueberries
RipeLocker has proven its storage method for a variety of applications in partnership with major growers and agricultural universities:
Pomegranates: After five months in storage, pomegranates held in RipeLocker containers remained in prime condition. Inspection comparisons resulted in data indicating the fruits' respiration rate was slowed by up to 50 percent. Implementation of a storage product like RipeLocker could extend the North American season.
Papayas: In spite of being highly perishable, tree-ripe papaya held in RipeLocker containers lasted 30 days at peak quality, which could lead to slower transport being a viable option for shipments.
Hops: Tests during the fall of 2020 resulted in fresh hops from CLS Farms maintaining fresh-picked quality six weeks later. With fresh hops selling at higher margins than dried varieties, hop dealers will be able to sell to markets that are further away in a way that was previously too costly.
---
Croptracker's ongoing priority is to provide its users with all the integrative tools that they need for tracking their harvest, whether it's for the whole season from growing to shipping, or just key areas to prioritize. Take advantage of the versatility of how to categorize your harvest products as packaging or processing changes how a crop is measured. Book a demo with a member of our team to learn more.