Why
Use
Farm
and
Crop
Management
Software?
Crop Management Software is designed to help coordinate all aspects of farm management, to improve productivity and operational efficiency. Almost effortlessly, it helps farmers keep tabs on every aspect of an agribusiness, such as field and crop conditions, rainfall, planting, spray records, harvest, packing, shipment, and tracking. It also provides the real-time data farmers need to make the right decisions at the right time.
Crop
Management
Software
Improves
Profitability
Using crop management software lowers orchard management or farm management operating costs. It allows the farm workers to easily see their costs of production, from the initial planting to field work, spraying, crews, harvesting, packing, and shipping. When a farmer has access to accurate data on all aspects of the business, making decisions that increase profitability are simple. Without real-time data, it is challenging to find ways to increase operational efficiency that lead to increased profits.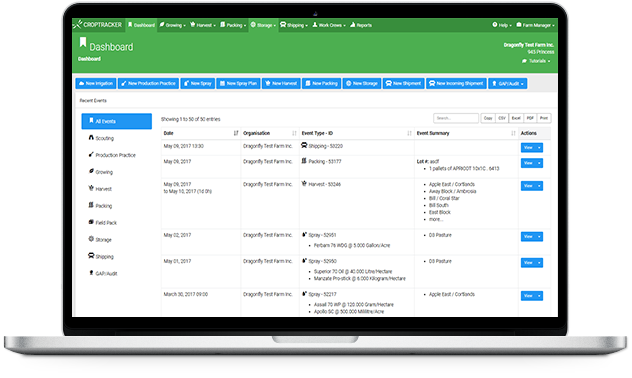 One of Croptracker's primary objectives was to help our partner farm businesses to improve their profitability. We understand how
hard farmers work, and we want to see them maximize their income. As a simple, easy-to-use cloud-based product, Crop Tracker helps increase efficiency, reduce costs, and increase profit margins.
Improved
Productivity
with
Crop
Management
Software
Another objective was improving productivity. When a farmer can track rainfall and monitor crop health online, it gives them better tools to manage their personnel and resources on a daily basis. This makes scheduling and managing farm activities much easier when the ultimate goal is maximum production.
A Croptracker feature that is particularly helpful in this regard is the ability to record tasks and have an overview of what is happening anywhere on the farm. This saves time and makes record keeping a breeze.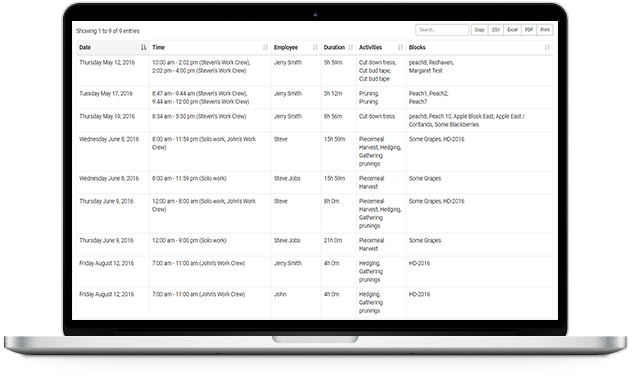 Cloud-Based
Crop
Management
We understand that agricultural technology requires mobile tools; after all, our farm partners don't stay in front of their computers all day! We know that getting out in the fields is vital to keep things running smoothly, so Croptracker makes time in the field more productive and helps farmers direct resources to the most needed areas.
As a cloud-based solution, Croptracker gives farmers and workers real-time dashboard access. If a team member in the back forty inputs information about spray records, crop health, or orchard management, all employees with access have that data at their fingertips instantly.
Croptracker allows accessibility on nearly any device. From desktops to laptops, tablets, as well as iOS and Android smartphones, it's easy for farmers to take their tools with them. Whether they are out in one of the fields, in a storage barn, driving a truck filled with product, or even in town picking up supplies—whenever and wherever data is needed, as long as there's an internet connection, Croptracker is there. Accessing information couldn't be easier.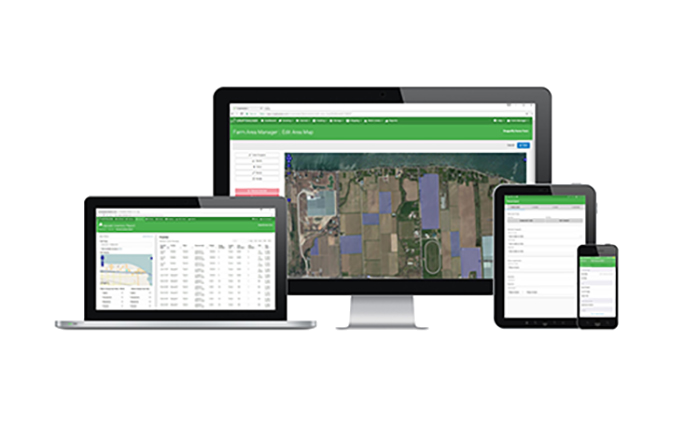 Data security is built-in to our software, too. Precision encryption keeps data safe, and we will never share or sell personal information. Additionally, the Cloud now offers greater security than in the past. All data is secure—even if a phone gets lost or a laptop gets run over by a tractor.
We developed Croptracker to help farmers focus on orchard management and food management, not on how to work the software. There's no steep learning curve. The software was designed to reduce the administrative burdens of running a farm business. Cloud-based software is also an eco-friendly choice that gets everyone involved organized. It's about increasing bottom-line profits.
Crop
Management
Audit
Reports
When we asked fresh produce farmers what tasks they needed to streamline, one thing we heard most often was food safety audits. So, we decided Croptracker needed to help reduce audit time and automate some of the tasks. This aspect of our software can literally save days of effort.
Croptracker also has the CanadaGAP® audit included; it can reduce the paperwork involved while farmers manage their crops and orchards. When we decided to develop Croptracker, we knew that integrating the Canadian food safety program was vital for producers, packers, and shippers of fresh fruits and vegetables. For this reason, we designed it to for implementing food safety procedures and maximizing fresh produce profitability. With Croptracker farm management, farmers will easily pass through CanadaGAP® food safety program audits. We've included the ability to record sprays, harvests, storage, packing and shipping activities. So, on audit day, farmers simply generate the needed reports for the auditor and get back to farming.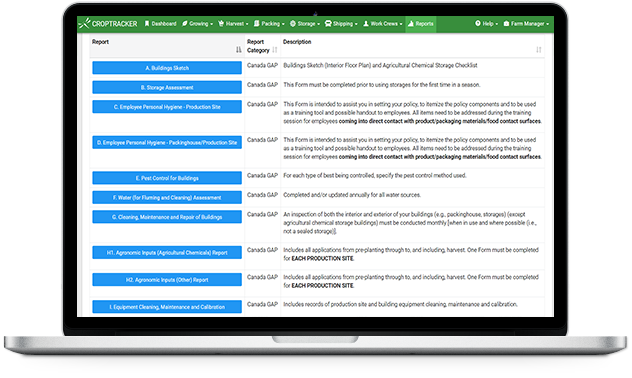 Traceability
Another challenge that produce farmers face involves tracking and traceability. Our comprehensive crop management software enables tracking right from planting through sprays, harvesting, packing and shipping with a simple event system. In fact, Croptracker has tracked nearly a billion pounds of produce since it was created in 2006. Daily, we have numerous farm partners happily using our software for orchard and crop management.
When we decided to develop Croptracker, we knew we wanted it to be simple, smart, and secure. We truly believe we have accomplished those goals. Croptracker will even help farmers be prepared in the event of food recalls or food safety emergencies. While these occurrences are fairly rare, they do happen. We want our farmer partners to have any required data at their fingertips all day, every day.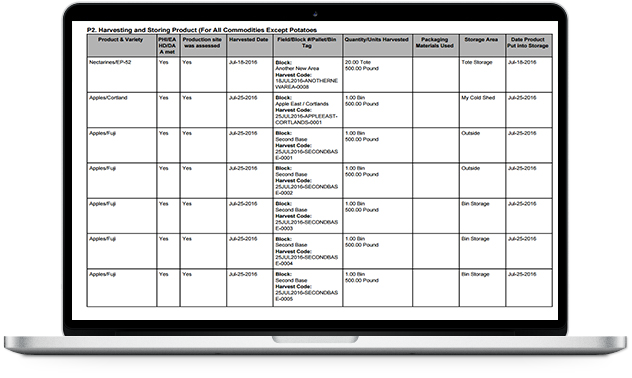 With Croptracker, a farmer has precise traceability; enabling them to figure out what went wrong and fix it immediately. It offers information on all three important aspects - location, product, and movements. Having this information at a farmer's fingertips reduces time spent on any recall that might happen, and enables a quick response to get the product out of the marketplace. Enabling a lightning fast recall helps farmers maintain their reputation and protect their brand. Croptracker enables automatic and instant traceability that helps growers and auditors alike.
Comprehensive
Crop
Management
With Croptracker, spray records are easy to use and maintain. Because these are often required by food buyers and food processors, it is vital to have these records on hand and easily accessed. Croptracker makes that task easy. Simply input spray applications, calculate how much chemical is needed, and choose from many preset tank mixes. There are also simple pest, chemical, crop, and growth stage search abilities. Furthermore, the software allows duplication if sprays are the same, so there's no need to perform repetitive tasks.
Harvest records are simple with Croptracker, too. Growers can quickly record their harvest and packing statistics as they are completed. The details can be shared with the whole team as needed. It makes traceability easier, more efficient, and keeps all the needed information for a food safety audit on hand.
From block yield reports, inventory tracking, product inventory, packing and shipping reports, chemical inventory, spray reports, packaging material inventory—everything is available from a real-time dashboard.
Farmers work hard, and it is challenging to keep profit margins high. Croptracker makes a farm more efficient, more productive and more profitable.