Harvesting season is no small feat of time-sensitive orchestration, with end goals of maximizing produce quality for consumers as well as growers' return on investment. Bin tagging is an invaluable piece of the puzzle for maintaining harvest continuity and traceability, but between regional variations, different commodities, and operational preferences, there's more than one practical approach to getting the job done. This is why flexibility is a cornerstone of Croptracker's entire ERP suite – and the Harvest module's workflow versatility is only expanding with greater bin tagging options, like pre-printing.
Stay
on
top
of
the
season's
incoming
inventory
with
Croptracker's
Harvest
module
The Harvest module's powerful Event framework enables users to track all the important details associated with each bin, for optimal traceability. The Event convention throughout Croptracker provides the capacity to link Harvest with other modules for inputting other crucial business information, like labor and equipment costs, spray applications, and production practices associated with specific lots.
Croptracker's streamlined ERP experience enables easy documenting of growing and harvesting practices in real time, and comprehensive data visualization suitable for formal audits or mock recall dry runs.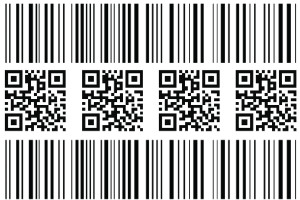 Barcodes
and
QR
codes
Storing a number of readily accessible data points in a single image has revolutionized data collection and object tracking. One-dimensional (1D) barcodes came first: invented by Norman Joseph Woodland and Bernard Silver, its composition was based on Morse code, extended into thick and thin bars. This design gained broad commercial success in the 1970s with automating the supermarket checkout system, a process that remains similar to current day with the ubiquitous Universal Product Code (UPC) barcode on retail products. As of December 31, 2019, the Canadian Produce Marketing Association (CPMA) stopped issuing generic UPC numbers for fruit and vegetables. Company and brand specific UPC numbers are now the barcoding standard in North America.
The QR code - abbreviated from Quick Response codes - are a particular type of 2D barcodes invented in the 1990s by Masahiro Hara from Denso Wave, a Japanese automotive company. A unique pattern of black squares are arranged in a square grid on a white background, with information present in both horizontal and vertical components of the image. QR codes are used in tracking, ticketing, marketing and in-store product labelling.
Both code types are used in harvest bin tagging workflows. What your farm or packhouse operation chooses to implement might depend on the inventory tracking software used, or what devices are most accessible for work crews to use for scanning. QR codes hold a major contemporary advantage because of the proliferation of smartphones, which easily scan and redirect the user to the info associated with the code.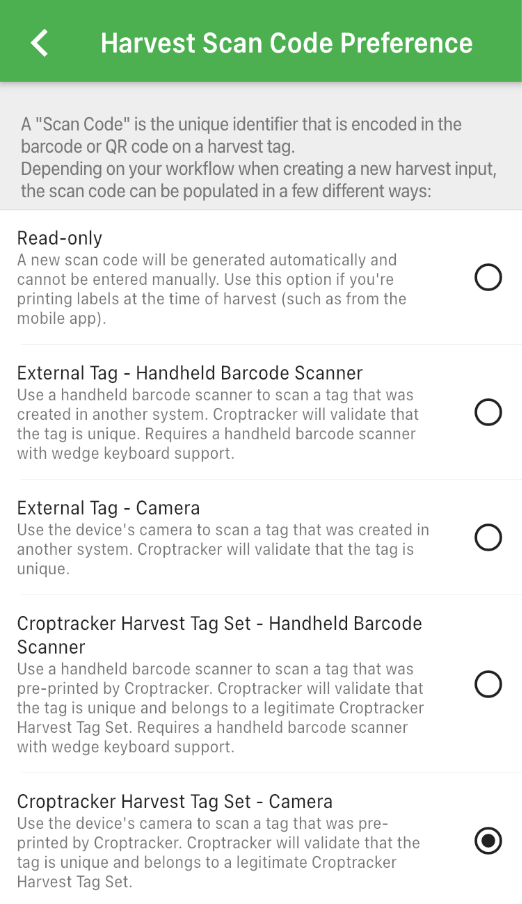 Choose
the
bin
tagging
approach
that's
based
on
your
specific
needs
You might need to squeeze as much information as possible onto each tag: who picked, what variety, and so forth. Or, maybe keeping things short and sweet is the best approach for your farm. Either way, the central element of a bin tag is its tracking code that associates the location of picked fruit for effective traceability through receiving, storage, and shipping. Croptracker supports different workflow styles for bin tagging, so what's already working for an operation can become even more effective.
Check out the different options available under Harvest Scan Code Preference:
Tagging in real time (Read-only)
Enter tag info in real time and then print. either using a mobile printer in the field, or sending the print job to the packhouse's cloud-linked printer station. A new Harvest Event auto-generates a scan code and entry options for things like location information, who picked, and more. The Read-only selection is ideal for vertically integrated operations – create only the tags required to avoid confusion and printing waste.
Integrating external tags with Croptracker (External Tag - Handheld Barcode Scanner or Camera)
Combine the system that already works with the Croptracker tools that will further elevate operational performance. That's the idea behind the External Tag options in the Harvest module. Whether work crews are equipped with barcode scanners, or smartphones for QR code capture, Croptracker will validate that a tag created by another system is unique.
This scan code preference is best suited for operations that want to use Croptracker's Harvest Quality Vision to accelerate the size and color grade sorting process. Croptracker can associate the existing tag with an HQV scan as it's taken. Then you can use Croptracker's API to pull size and color data, and correlate it with your existing system using the tag.

Pre-printing (Croptracker Harvest Tag Set - Handheld Barcode Scanner or Camera)
Skip all the data entry on site. By generating thousands of labels in advance of work crews heading out to pick, supervisors can distribute tags for particular blocks and rows in Tag Set List ensures each tag is unique.
Validate that the bin is created in the correct Harvest Event or location. On the mobile app, crew members can scan the barcode of a tag they receive. From here, users can validate that a tag is intended for a particular row, variety, and so forth. Another use case for pre-printed tags could be at the point of receiving at the packhouse – a crew member operating a forklift can use a mounted tablet to assist in directing bins to the right areas for processing, storage, and shipping.
---
Croptracker develops agtech solutions for industry leaders. Our mission is to make crop production safer, more efficient, and more profitable. Designed with fresh market producers and distributors in mind, every tool we create is based on direct industry feedback. Croptracker's award-winning farm software optimizes recordkeeping, labor tracking, production and cost management. Our integrative Harvest Quality Vision technology offers instant empirical analysis of crop samples exactly when you need it. Optimize your harvest season with Croptracker's customizable solutions: learn more about our Farm Management Software, or book a demonstration to schedule a meeting with our product experts.