As the need to verify production practices has increased, so has the need to log employee work activity. Croptracker's Punch Clock module is designed specifically for the ag industry, which means having features that allow for flexible and relevant documentation of who accomplishes what tasks, and exactly where on the farm they do so.
Simplify tracking, lose the headache: here's three reasons to consider switching over to Croptracker for labor management.
1)
Implement
a
piece
rate
structure
with
greater
accuracy
There's a lot of moving parts to orchestrating field work – for example, crews move through different blocks and rates of pay between tasks can vary – so stay organized and offer accountability to your workers by using a digital tracking tool that can keep all matters of worker pay straightened out. A piece rate pay structure requires paying workers by every 'unit' produced or harvested, regardless of the activity. Per piece units could look like the number of rows sprayed or weeded; trees trimmed, or fruit picked. Workers must not be paid less than minimum wage after computation of the per-hour price equivalency, and as well employers must also comply with overtime compensation and ensure they keep accurate records.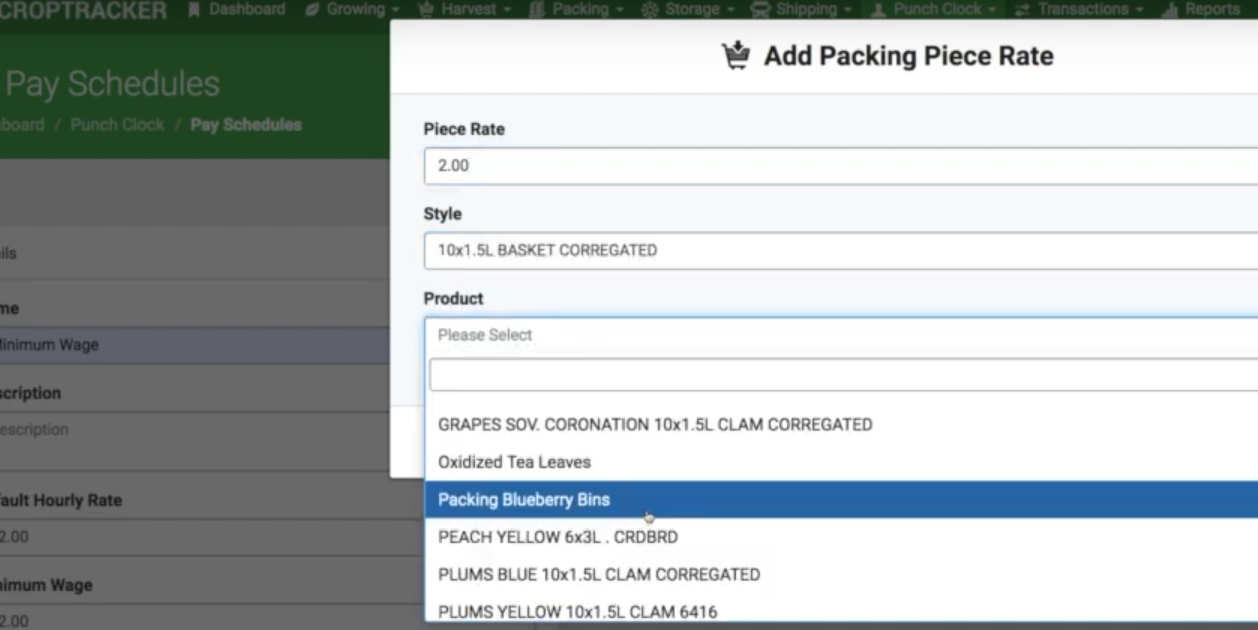 Though it's entirely possible to calculate and verify suitable pay rates on your own, the Punch Clock module simplifies matters through its upfront data configuration. Enter the regional minimum wage for an employee at the time of creation on the system, and there's no longer need to worry about pay gaps. Croptracker's pay reports ensure that employees are always paid at least the specified minimum hourly wage equivalent when paying by piece.
Configuring
employee
pay
rates
Croptracker's reports look at current rates set at the time of running the report to ensure at least the minimum wage is paid out for every employee.
Include a title, description, the default hourly pay rate and regional minimum wage. Field packing can be tracked here by adding packing piece rate details. Further piece rate attributes are entered in a separate Piece Rate menu item under Punch Clock. The Harvest Piecemeal Pay Report uses the greater rate per worklog rather than per day. The Employee Payroll Report compares the sum of piece payouts per day to the sum of hourly payouts per day. Choose the report that best adheres to your operation's compensation policy.
2)
Save
time
on
cost
tracking
and
payroll
sync
with
power
reporting
Versatile reporting is available within each module of Croptracker's farm management ERP. Whether there's a need for all employee activity within an operation to be represented on accounting software, or it's just a matter of wanting to review hours of a single worker, there's a report to suitably represent the data.
Example reports:
Harvest Piecemeal Pay Report: Determine employee payouts for piecemeal harvesting while taking minimum wage and hours worked into account.
Daily Piecework Report: Shows a daily summary.
Total Work Cost Report: Shows total expenses grouped by area and activity.
3)
Thread
worklogs
into
recordkeeping
across
modules
Maximize your business insights by connecting worklogs to other operating costs and practices. Here are just a few of examples:
Associate bins with employees as you track the harvest. Scan harvested inputs and trace them throughout the system.
Calculate the operating cost for a piece of equipment. Enter an hourly operating cost for a piece of equipment. Select pieces of equipment when punching in, and the total work cost report includes a column for equipment hours and cost.
Measure labor costs of particular locations or activities. The Total Work Cost report shows total expenses grouped by area and activity.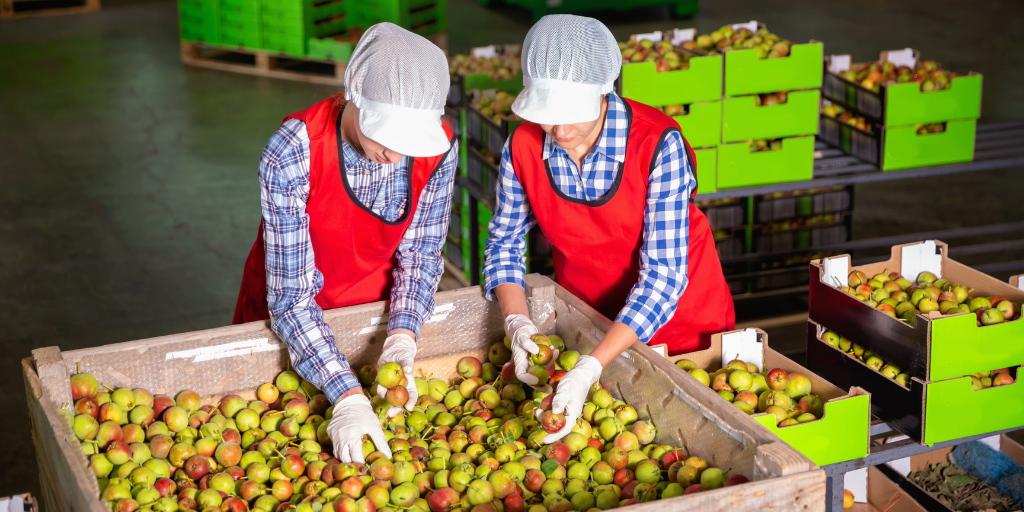 Get
started
with
Punch
Clock
A
couple
of
considerations
before
configuring
Croptracker's
Punch
Clock
for
your
operation
Assess your team's day to day needs:
How should your team clock in and out? Punch Clock can accommodate different paths to the same action:

Web browser, used by crew lead or administrator
Mobile, used by a crew lead
Mobile, but as a stationary kiosk requiring employee badges
You may also want to consider utilizing more than one workflow for logging workers in and out of labor activities. For example, a stationary kiosk for the beginning and end of day might work most of the season, but when the pace heats up closer to harvest, it may prove more efficient to rely on a crew lead to manage clock ins and outs, by taking advantage of Bulk Punch In/Out, and managing activities and location changes on busy days.
What access should each employee have within Croptracker? Permissions can be set for every employee, which will allow or disallow them to access or view certain areas of Croptracker. This is organized by locations, events, and statuses.
Setup steps for Punch Clock:
Set up Field Maps for all relevant growing locations. This step is the basis for all Croptracker modules when you begin an account, and enables the traceability of harvest data throughout the ERP if using multiple modules.
Create a Pay Schedule. Include a title, description, the default hourly pay rate and regional minimum wage. Field packing can be tracked here by adding packing piece rate details. Further piece rate attributes are entered in a separate Piece Rate menu item under Punch Clock.
Set up Work Crews and indicate if there is a crew lead.
Set up Employees.This can be done one by one or through a bulk upload using 'Upload Employee Data' CSV template. Determine employee app permissions and work locations.
---
Croptracker's system is completely modular, so you use and pay for only the modules you need. Since Croptracker serves ag clients of all sizes, it's just as common for a family farm business to subscribe for just one module, like Punch Clock, as it is for a large distribution operation to adopt the entire comprehensive farm management software for full traceability located in one platform. Ask our team about how you can better optimize your harvest season with Croptracker's customizable solutions.