Apples are one of the most widely consumed fruits in the world, with a global production of over 86 million tons in 2020. However, the process of harvesting, storing, and distributing apples present numerous challenges for growers, packers, and shippers. In this article, we will explore some of the challenges facing apple growers and the technological and operational innovations that are helping to overcome these challenges.
A seasoned and experienced orchard manager once said the following about the apple harvest:
We can't put them back on the tree once they've been picked."
This statement encapsulates the challenges facing apple growers, pickers, shippers, and work crew managers at harvest season around the world.
In such a short window of harvest time, orchard managers must rely on hundreds of employees and temporary or contract laborers to perform the most important action of the year - choosing and picking apples of the right size and color. A skilled apple picker can pick an average of 12 boxes a day. That's six tons of apples for every picker and 120 tons over one shift for a typical work crew of 20 people.
Due to the short harvest window, and the massive quantity of apples to be picked, it has been practically impossible to manage and assess whether workers are picking the right apples at the right time to meet the ever-changing and ever-increasing demands of the global marketplace.
The massive volume and relative fragility of the apples make sorting for color, weight, and size before storage nearly impossible. In the past, most orchards have relied solely on the opinions and qualitative standards of orchard managers to "course-correct" pickers when they are choosing the wrong size or color of apples. Furthermore, typical apple quality control tests are plagued by subjectivity, inconsistency, human error, and miniscule sample sizes. Using calipers and ring sizers, orchard or crew managers can quantitatively measure only a tiny fraction of the apples picked.
This lack of data on what is being picked in the orchard is one of the biggest pain points for orchard operations managers. Apple growers, packers, and shippers cannot match their produce supplies to the demands of the global market if they are constantly unsure of the supply coming from the orchard. Furthermore, the sheer volume of picked apples makes sorting before storage almost impossible, as orchard managers rush to harvest and store as much produce in as little time as possible.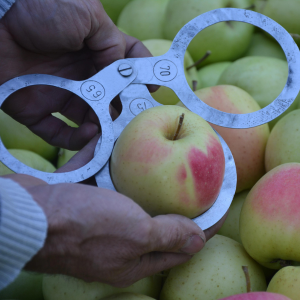 All
About
Starch
Timing a harvest to ensure that apples are picked at the right time for taste and quality is a much simpler process if fruit are going to sale immediately, but significantly more difficult for fruit destined for long term or CA storage. Harvesting apples too early can result in hard, acidic fruit that are more likely to develop issues like scald and bitter pit, but harvesting too late can result in shorter shelf life, texture issues, and easily bruised fruit that loses its shine and appears dull. Late harvesting also increases the risk of apples dropping from the tree on their own.
So how do growers best time their harvests to maximize yield and shelf life? The starch-iodine test is one of the main preharvest tests apple growers use to determine the ideal harvest window. Learn more about starch testing for apple harvest timing.
The storage of these tons of harvested apples presents an additional challenge for growers. Orchard managers are continually looking for better solutions so they will have a better idea of what they are putting into storage. Depending on the storage facilities available to them, growers may store their commercial apple harvests for up to one year.
What
is
CA
Storage?
Controlled Atmosphere Storage is a sophisticated technology, controlling multiple aspects of the storage unit's climate. Where traditional cold storage maintains temperature levels, CA storage controls the atmosphere of the storage unit right down to the oxygen level. In CA storage, apples are sealed in an environment that is around 2% oxygen where temperature, humidity, nitrogen, and carbon dioxide are all carefully regulated. (For reference, standing air has an oxygen makeup closer to 21%.)
The reduced oxygen levels in CA storage rooms essentially slow the ripening process by making the fruit dormant. But CA storage presents its own challenges: once a unit is sealed it cannot be entered or opened. In 2015, a British farm manager was convicted of manslaughter in the deaths of two orchard employees who entered a CA storage room to retrieve samples for a local fruit show.
The cost of placing fruit into storage is high, and once the seal on a storage unit is broken, the apples will begin to ripen almost immediately, greatly reducing their shelf life.
When the contents of a storage unit are unknown, growers are faced with the expensive decision of which unit to open, at the risk of opening the wrong unit and wasting valuable inventory. Thus, apple growers, packers, and shippers are constantly looking for technological and operational innovations that can provide greater insight into their stored inventory.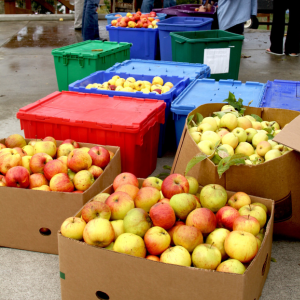 Storage
Solutions
Technologies that can reduce the impact of this problem are in the works, from remote monitoring inside CA storage rooms to advanced alternatives to presorting.
Alternatives
to
Presorting
Technologies that can reduce the need to presort fruit are always in demand; in cases where presorting is impossible, systems that can provide any additional information on harvested inventory can be a game changer when it comes to storage efficiency.
Harvest
Quality
Vision
Croptracker's Harvest Quality Vision collects data on scanned fruit to assess size and color. Using this data, growers can more intelligently group their lots, storing like fruit together and maintaining more up to date information on the quality of stored fruit.
Remote
Monitoring
Remote sensing systems allow for safe monitoring of controlled atmospheric conditions. The most common sensors installed in these rooms are gas and air content monitoring systems:
Oxygen
&
CO2
Sensors
Oxygen and carbon dioxide levels affect the shelf life and quality of fruit in several ways. Lowering the oxygen levels serves to reduce ripening, reduce ethylene production, and extend shelf life, however, low oxygen levels are also associated with the development of storage disorders, flavor changes, and undesirable texture changes. High CO2 also inhibits the ripening of stored fruit, as well as helping to maintain the fruit's color and texture.
Aerobic
vs
Anaerobic
At the most basic level, aerobic refers to processes where oxygen is consumed, while anaerobic processes occur without oxygen. Typically, metabolic processes in living organisms are aerobic. Anaerobic metabolic processes can be induced in CA storage, further reducing ripening, but there is a much greater risk of flavor changes as the fruit begins to produce acetaldehyde and ethanol, which may cause the fruit to ferment.
Ethylene
Monitoring
Ethylene, often referred to as "the fruit ripening hormone" is released as apples ripen in the form of ethylene gas. Just 1 ppm ethylene in air can trigger the ripening process and shorten produce shelf life.
Temperature
Sensors
Although the original idea of CA storage was to reduce the need for refrigeration, studies show that they are most effective in combination. Temperature in long term storage needs to be carefully monitored as temperatures that are too high can lead to spoilage, but temperatures that are too low may cause damage to the stored fruit. Typically, long term storage temperatures should be between 0-14 degrees celsius.
Humidity
Humidity levels also affect the storage viability of fruit, and must be carefully monitored. While a high relative humidity slows down transpiration and water loss, too much humidity can increase the risk of bacterial growth.
The apple industry faces several challenges when it comes to postharvest time, from the difficulty of managing a short harvest window to the storage and preservation of harvested apples. However, innovative technologies and operational practices are being developed to address these challenges, such as remote monitoring and alternatives to presorting. The use of controlled atmosphere storage presents its own set of challenges, but it remains a crucial tool in extending the shelf life of apples. Ultimately, the apple industry will continue to adapt and evolve to meet the demands of the global market and ensure the quality and consistency of their produce.
---
Croptracker develops agtech solutions for industry leaders. Located in Eastern Ontario, Canada, our mission is to make crop production safer, more efficient, and more profitable. Designed in partnership with fresh market producers and distributors, every tool we create is based on direct industry feedback.
Interested in learning more about Croptracker? Learn more about our Farm Management Software, or book a demonstration to schedule a meeting with our product experts.