Jeff Chemeres
Croptracker Inc.
jeff@croptracker.com
(613) 767-9961 Ex.200
FOR
IMMEDIATE
RELEASE
An
artificial
intelligence
approach
to
the
apple
industry's
most
common
quality
test
Ontario agtech firm Croptracker Inc is proud to announce the launch of Starch Quality Vision; the latest artificial intelligence assessment tool for apple growers. The Starch Quality Vision (SQV) technology empowers orchard managers and apple growers to empirically and accurately score starch pattern index tests without the need for a trained assessor.
The starch-iodine test is one of the most important pre-harvest tests in the apple industry. In the weeks up to harvest time, growers may perform dozens of starch tests on hundreds of apples as they chart the maturity of the fruit and plan their harvests accordingly.
"What we learned early on in development is that a lot of growers are just eyeballing their starch tests to their best guess, and the human eye's best guess is extremely subjective," said Croptracker CEO Matt Deir. "During testing, even highly trained orchard managers who have been doing this for years scored the exact same fruit differently, even just five minutes apart. Growers use this test to determine their harvest dates, so a consistent score is critical to maximizing the quality and shelf life."
The leading problem analysts tend to point to is this: a general decline in agricultural interest across the board (at least in North America). Experts claim this declining trend in agricultural interest has many contributing factors, such as: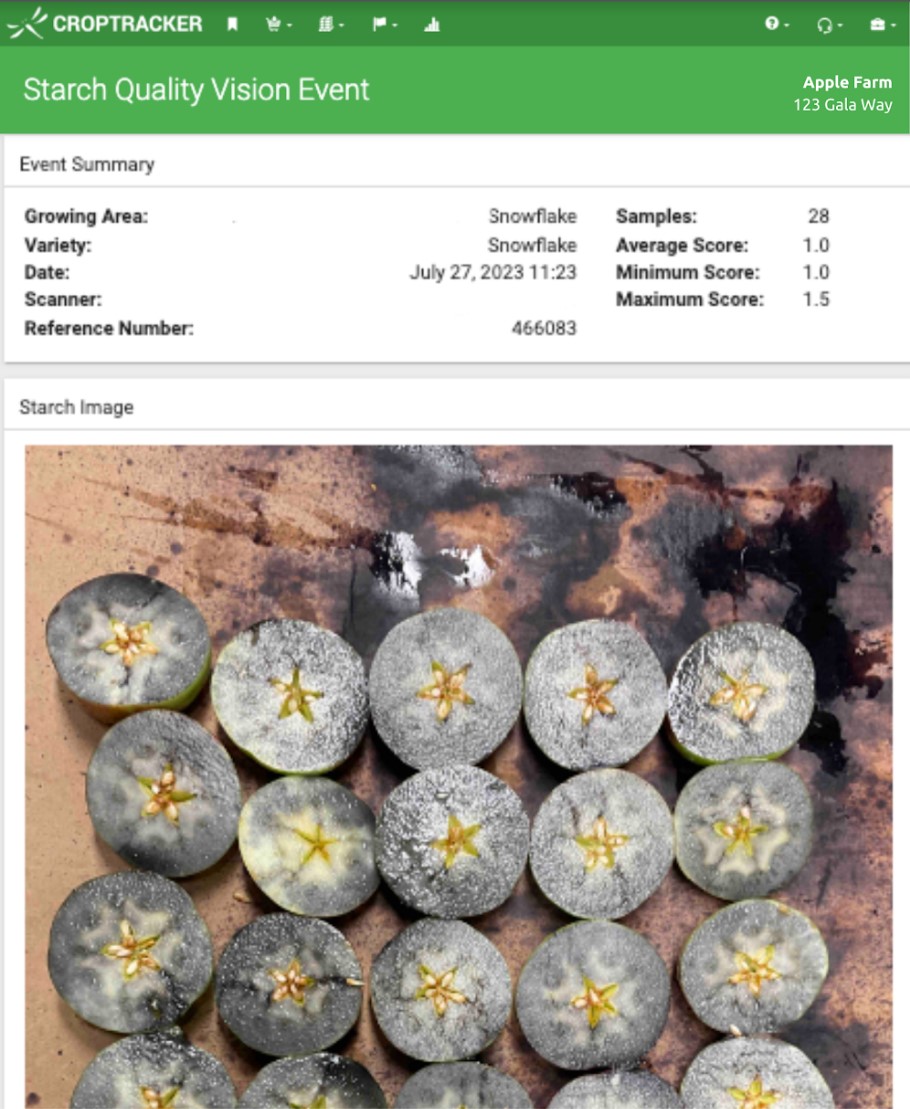 To develop Starch Quality Vision, the Croptracker team met with orchard managers from around the world to learn from the best in the business. With their help, SQV AI has trained on thousands of scored starch pattern tests.
The SQV software will be provided to Ontario Apple Growers members as part of their ongoing partnership with Cropracker. "This will provide us with more information on the quality of apples we are receiving during harvest.", states Deon Boonzaier of Algoma Orchards in Newcastle, Ontario.
Using SQV, apple growers can be sure of the consistency and accuracy of their starch assessments, using just a mobile phone or tablet - Android or iOS.
SQV will be available starting August 15th. For more information on Starch Quality Vision, please visit the product page or contact Sales@croptracker.com.
---
Croptracker develops agtech solutions for industry leaders. Located in Eastern Ontario, Canada, our mission is to make crop production safer, more efficient, and more profitable. Designed in partnership with fresh market producers and distributors, every tool we create is based on direct industry feedback. Croptracker's award-winning farm software optimizes recordkeeping, labor tracking, production and cost management. Our integrative Harvest Quality Vision technology offers instant empirical analysis of crop samples exactly when you need it. Optimize your harvest season with Croptracker's customizable solutions. Visit Croptracker.com to learn more about our products and contact us for app based solutions.