After a busy 2020 with the initial rollout of Harvest Quality Vision (HQV), Croptracker's post-harvest computer vision solution, the team is pleased to announce the launch of a further streamlined update. Functioning as a "virtual pre-sorter" for any point along the supply chain, HQV 2.0 captures hundreds of data points for each piece of detected fruit in five seconds, all with just an iPad.
And now, there's no need for an external camera attachment.
Building
upon
the
success
of
the
premier
version
of
Harvest
Quality
Vision
Croptracker's initial HQV release in 2020 has enabled clients in nine countries to streamline their sorting and grading practices for a fraction of the cost and footprint of an optical sorting packline. With tens of thousands of scans captured from the field, before transport, and at receiving, clients have gathered fast, reliable data from harvest samples to associate with stored inventory and seasonal recordkeeping.
Strong
support
from
the
first
season
of
Harvest
Quality
Vision

John Crispin of FirstFruits in Prescott, Washington used Harvest Quality Vision for the 2020 apple harvest. "I like this device and the data it collects, from ranges in apple sizes to having the ability to record color," said Crispin. "I've done comparison reports from the data collected from Croptracker to the data we have on our pack out reports. I'm pleased to say I'm happy with the information it gives me per variety. I will continue to use this device going forward."
Early customer feedback allowed for the focused expansion of report formatting that organizes harvest data in the best way for industry needs. Each report is readily exportable for integration with other important business tools, so there's no need to drop the effective parts of your operation's current workflow. An API is also available to automatically integrate data from Croptracker into users' existing software systems.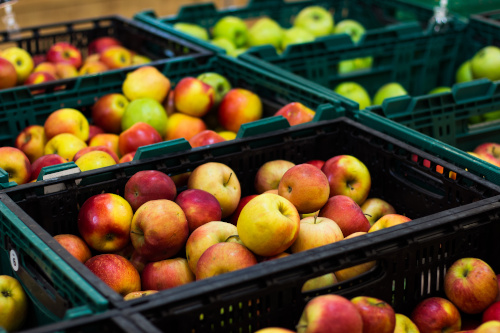 HQV
2.0
highlights
Harvest Quality Vision 2.0 has already been beta tested by participating customers on four continents. The latest HQV release offers the ability to:
Scan
in
direct
sunlight
Move scanning further into the orchard. Rapidly assess produce sizes exactly where it's needed throughout harvesting
Course-correct pickers in real time, as bins are being filled on site
Deliver harvest data across the supply chain directly from the rows being harvested
Scan
with
just
an
iPhone
or
iPad
Pro
–
no
external
attachments
required
Start faster with streamlined setup and calibration workflow
Easily protect your devices with the standard protective cases available on the market
Maximize battery life during operations, as an external camera is no longer needed
"Building off of the success of our initial launch of Harvest Quality Vision, HQV 2.0 will let our customers get started faster using just an iPhone or iPad, and in a matter of moments, begin to capture critical quality data at scale," said Croptracker CEO Matt Deir. "The Croptracker team is excited to expand HQV into additional commodities and marketplaces going forward, as we continue to apply our computer vision expertise to the global specialty crops sector."
Harnessing harvest data on demand, and on the go – it's just one of the ways Croptracker embodies our mission to make crop production safer, more efficient, and more profitable. Thank you to all our customers who have enabled us to keep building and moving forward with new technology!
---
Croptracker develops agtech solutions for industry leaders. Designed with fresh market producers and distributors in mind, every tool we create is based on direct industry feedback.
Optimize your harvest season with Croptracker's customizable solutions: learn more about our Farm Management Softwarea or book a demonstration to schedule a meeting with our product experts.