The number of farms devoting more than half of its acreage to organic production leapt almost 15 percentage points in 2018, reveals Growing Produce's 2019 State of the Vegetable Industry report.
The report found that about 1/3 of vegetable operations surveyed have at least some of their acreage devoted to organic production. Of these operations, 58% dedicate half or more of their acreage to organic crops. Additionally, almost 9% of growers are planning to add organic production within three years.
Increasing consumer demand, high prices, and the prospect of fewer input costs have encouraged more growers to introduce organic production.
However, many growers are still deterred by limited governmental and peer support for organic production, transition period stresses, and crop rotation struggles. (For more on this subject, read our blog post Why Aren't There More Organic Farms?). Others are daunted by achieving organic certification, a lengthy process that requires rigorous record-keeping.
Croptracker helps
make
achieving
and
maintaining
organic
certification
easier.
With Croptracker, growers can:
• Prepare detailed and accurate spray records that organic bodies will review during the certification process and during inspections
• Store records so that they are easily-accessible for surprise inspections
• Use spray records to show that no non-permitted substances were applied to organic blocks or blocks applying for organic certification
• Use spray records to substantiate claim that non-permitted substances were not applied in last 36 months, allowing eligible growers to skip the 3-year waiting period.
• Use labour records to demonstrate that workers did not conduct production practices in organic blocks immediately after applying chemicals in non-organic blocks, thereby increasing the risk of contamination
• Use packing records to show that organic produce was packaged in organic-labelled packaging and conventional produce in conventionally-labelled packaging
• Use packing records to show that the produce from your organic buffer area are packaged and labelled as conventional produce, not organic produce
---
Want a refresher on any of Croptracker's features? Head over to our Knowledge Base, where you'll find step-by-step tutorials as well as common troubleshooting tips and more. And as always, if you're ever stuck, never hesitate to e-mail us at support@croptracker.com or Live Chat with us by clicking the green speech bubble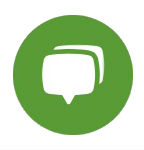 in your bottom right-hand corner. We're always happy to help you let Croptracker make your farm become more efficient, safe, and profitable!