Keeping ahead of the curve with Croptracker's Top Ten Weather Apps for Farmers.
It's no secret that Croptracker is big on data and recordkeeping for all things growing. For any farmer or professional working in agriculture, the benefits afforded by digital technology can be of huge advantage to crop management. Monitoring local and global weather patterns is critical to helping farmers to prepare for the worst when extreme weather is likely to hit.
It can be challenging to sift through Google Play and the App Store to choose new tools to try out, so we've rounded up some suggestions for you: the farmer who wants the very best for their plants, and their customers. Whether it's out in the field or orchard, we feel these apps are the best for monitoring weather and temperature in a way that will get you the results you really want. From apps for the tech-headed meteorologist farmer, to simpler software for those who just want to stay informed, below are ten weather apps to try.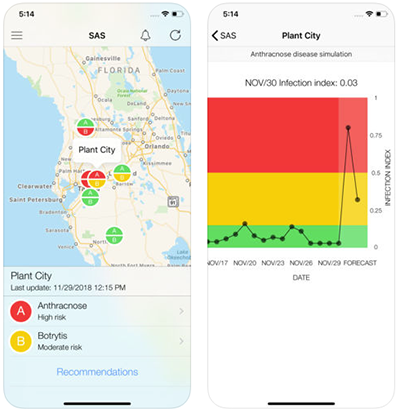 Strawberry
Advisory
System
This highly useful free app allows strawberry producers to keep their crops free of devastating fruit rot like Botrytis and Anthracnose. Seeing as the app monitors the weather, it makes recommendations for fungicide based on the local climate and lets the user know when their crops are at the highest risk. The company offers a free pro version with added functionality, but this is localized only to the Florida region.
Pros: Free, available for iPhone and Android.
Cons: Not available in Europe.
---

Custom
Weather
Alerts
Particularly useful for those who have to keep a keen eye on their fields and soil for fear of sudden cold weather, Custom Weather Alerts is a great app which checks the weather at a specified time of day and gives warnings to users if the temperature is too low. The app can also be used in droughts since it can report on high temperatures or any temperature outside of a custom range set by the user.
Pros: Attractive smooth interface, easy to use, available in the US and Europe.
Cons: Android only, contains ads.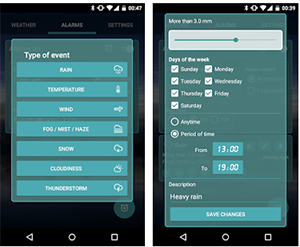 ---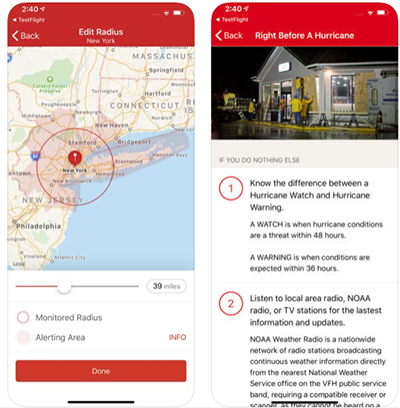 Hurricane
by
American
Red
Cross
An app for those who are looking for some warning in advance of seriously intense weather, Hurricane by American Red Cross was reported by CNN as being one of the top tracking apps for hurricanes and has won a range of accolades. Not only does the app let users know where hurricanes are heading, but it also gives out important advice on what to do before, during and after a hurricane hits, and also connects users to social media. This is particularly useful for farmers who wish to safeguard their crops in advance whilst also giving the added advantage of teaching the user about hurricane safety and survival.
Pros: Free, available for iPhone and Android, available in English and Spanish.
Cons: US only.
---

RadarScope
Radarscope is for the farmer who is also something of a meteorologist. It's an app for professionals who need to track extreme weather conditions such as tornadoes, thunderstorms and flash floods. One of the nice things about the app is that it doesn't sugar-coat reports by giving nice smooth eye-candied images – all readouts are rendered in native radial format to a very high level of detail. Because of the high level of professional information contained therein, using the app is not cheap and is done on a subscription basis, but users swear by it.
Pros: Available in the US and Europe, Android and iPhone.
Cons: Not free.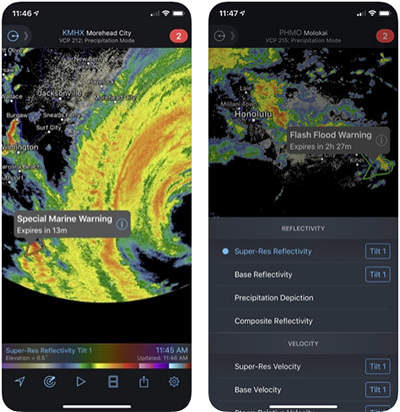 ---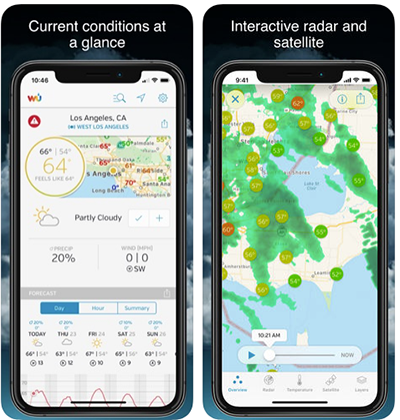 Weather
Underground
An app which is gaining a lot of notoriety for its hyperlocal accuracy, Weather Underground is a free app available in the US and Canada, as well as in the UK, France, and New Zealand. Weather Underground collects data from a wide range of sources and claims that it has over 270,000 weather stations that provide its data. The app is very detailed, but easy to use and provides interactive maps for temperature, rainfall, wind speeds, weather types, air quality, and UV indexes. Users can even view webcams from all over the world. They can also get interactive with the app by reporting the weather in their own regions for improved accuracy.
Pros: Free, available for iPhone and Android. Available in multiple counties and a wide range of languages including English, Dutch, Finnish, French, German, Greek, Hindi, Hungarian, Italian, Japanese, Korean, Polish, Portuguese, Russian, Simplified Chinese, Spanish, and Turkish.
Cons: Contains ads.
---

Dark
Sky
If it's meticulous accuracy you're after, then Dark Sky is the app for you. Having made a name for itself as a great source of reliable weather information, Dark Sky prides itself on being "the most accurate source of hyperlocal weather information". Dark Sky is able to predict with impressive accuracy when rain is likely to start and stop, offering a wide range of options for maps, temperatures, wind speed, UV information, precipitation and much more. Include notifications and an easy-to-use navigation system, and you'll be up to the second with the vital weather information you need for your crops.
Pros: Available in the US and Europe, available for iOS.
Cons: Paid only.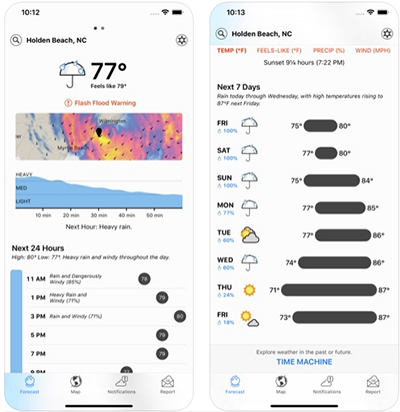 ---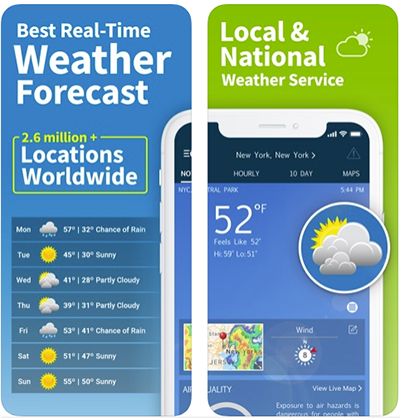 WeatherBug
WeatherBug markets itself as a complete app giving the user weather alerts for lightning, wind chill, local temperature, pollen count, UV index, precipitation and much more. Users can also use the weather widgets to view the weather on their home screen. The difference between WeatherBug and other apps is that WeatherBug gives the user up to 18 different map types for customized weather view displays. The app is free, though ads are included. However, the company provides a version without ads for a price.
Pros: Available on iPhone and Android, the US and Europe, free.
Cons: Free version contains ads.
---

Weather
Live
If you're after something a bit simpler, Weather Live may well be the app for you. Another app which is receiving a lot of very positive reviews in the Apple app store, Weather Live offers users a simple but attractive forecast of the weather at a specified location or around the world with a beautiful relevant picture of the weather type included. It doesn't add as much information as the other apps on this list but its intention isn't to do so, though it does include useful information such as wind speed, temperature, precipitation, humidity, and UV indexes. It's a great app for those looking to protect their crops and plan ahead without too many bells and whistles.
Pros: Free, available for iPhone and Android, available in Europe and the US.
Cons: Contains ads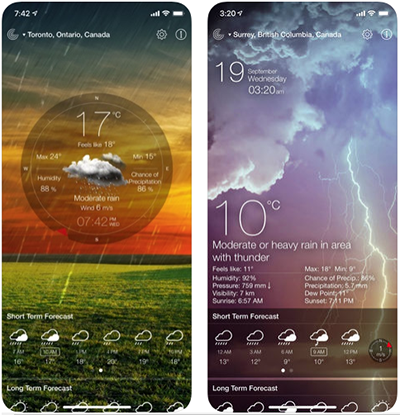 ---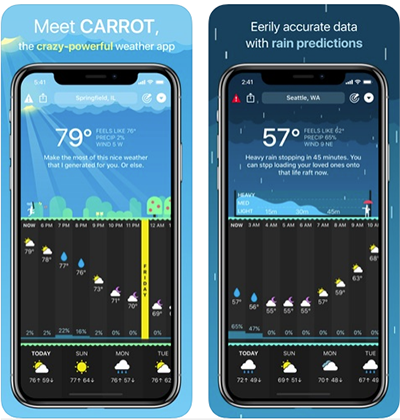 CARROT
Weather
Garnering extremely positive reviews in the Apple App store, CARROT weather has also won lots of awards and has been featured in numerous publications like the New York Times and Wired. What makes CARROT different is that it provides weather forecasts with an inventively humorous twist. Seeing as everyone's tastes are different, users can configure the app to provide upbeat friendly humor or dark twisted humor. The app pulls data from Dark Sky and can provide forecasts in real-time, hourly or up to seven days. Not only this but the more you use the app the more you unlock secret locations which are worth discovering for their entertainment value. The app also utilizes AR so users can make the forecast appear right in front of them in their own house. CARROT offers several tiers for payment including a premium club.
Pros: Available for Android and iPhone, available in the US and Europe.
Cons: Not free
---

NOAA
High-Def
Radar
Pro
For those who like to tinker a bit more with the meteorological side of things, NOAA High-Def Radar Pro is a fantastic application that lets users see weather as a high-definition radar image which is up-to-the-minute in accuracy. Users can zoom in as required, set preferred locations and find out about wind speeds, water temperatures, cloud cover, and even earthquake information. The app is accurate for up to six hours in the future and can also provide five-day forecasts. Extremely powerful and with a huge amount of features for those who want to know absolutely everything they can about hyperlocal and global weather, this is one of the best apps on the market for monitoring the weather and looking after your crops.
Pros: Available in English and Spanish, in the US and Europe, available for iPhone and Android.
Cons: Paid, certain pay tiers contain ads.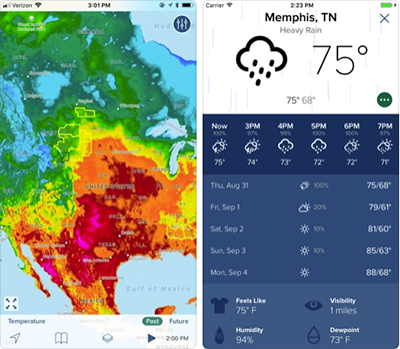 Technology in farming is our business at Croptracker, and we're always on top of how apps can help farmers and how software develops and improves. We feel that these are the best apps on the market for professionals, but it's worth trying out more than one to see which app is the very best for you and your business. There's no need to keep just one either: some of these apps have different feature styles to suit your moods or what you may need at any given time.
Looking for a case to help protect your phone from the elements? Check out our Top Ten Rugged Phone and Tablet Cases for use on the farm!
---
Croptracker develops agtech solutions for industry leaders. Our mission is to make crop production safer, more efficient, and more profitable. Designed with fresh market producers and distributors in mind, every tool we create is based on direct industry feedback. Croptracker's award-winning
farm software
optimizes recordkeeping, labor tracking, production and cost management. Our integrative Harvest Quality Vision technology offers instant empirical analysis of crop samples exactly when you need it. Optimize your harvest season with Croptracker's customizable solutions: learn more about our Farm Management Software, or book a demonstration to schedule a meeting with our product experts.