Croptracker makes it easy to keep up with your farm. Now, we're making it easier to keep up with Croptracker! Prompted by your feedback, we're making software update announcements readily available over several different channels.
Check out the new Software Updates archive, found on the Support & Training page. This page will list every single update, big or small, for your reference. Every software update will also be posted as they happen to our Facebook and Twitter pages (make sure you follow us so you never miss a post!). If you're subscribed to our mailing list (scroll to the bottom right of this page if you're not!) you will also receive a weekly Software Update newsletter.
If you're a member of the Berry Growers of Ontario, Ontario Apple Growers, or Ontario Tender Fruit Growers, you can also expect updates in your association newsletter.
As always, if you have any questions you're welcome to reach out to us at support@croptracker.com or by clicking the green chat button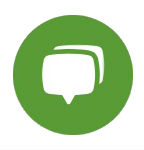 in the bottom right of your screen. Please feel free to shoot us comments and suggestions at any time, too - it's your feedback that sparked this software update communications project!