Excitement about an apple product launch usually refers to the latest iPhone, but when the Cosmic Crisp apple variety was about to be released in 2019, there was a lot of buzz! The much publicized cosmic crisp is a great case study in how the apple market is changing, and what this means for apple growers.
What
are
"Club
Varieties"?
Granny Smith, Red Delicious, Honeycrisp, all of these cultivars are well known and sought by name in grocery stores around the world. Apples are unique among produce as one of the few items that are marketed by their specific variety name - with consumers paying more for popular or exclusive "club varieties" such as Pink Lady. Club varieties are licensed or proprietary cultivars that are developed and patented as intellectual property with exclusive growing rights.
Beginning with the patenting of the Honeycrisp in 1988, club varieties have skyrocketed in popularity. According to a survey of Washington nurseries, in 2018 alone 40% of new apple acreage in Washington was reserved for growing club varieties.
Growers who want a piece of the club-apple-pie need to apply with the license holder, and will pay royalties, licensing fees, and even club dues to get access to the most popular apples on the market. In some cases, growers can't even own their apple trees, and will actually lease the trees from the license holder. In the case of the Cosmic Crisp, for every 40 pound box sold, Washington State University and Proprietary Variety Management take a royalty fee of 4.75%. Additionally, club varieties can have other criteria that determines who can grow them - the Cosmic Crisp will be exclusive to Washington growers until at least 2027.
What
does
this
mean
for
the
apple
industry?
The popularization of club varieties has already changed the shape of the industry, pushing "premium" varieties to the forefront of the consumer consciousness, while "classic" apples are left behind. But it's not just the popularity with consumers, the premium prices of club varieties are attractive to growers too. With consumers paying up to 3 times the average apple price for club varieties like Pink Lady, more and more growers are moving towards the more lucrative product. Some orchard managers have gone as far as to say that they will likely never plant new "classic" apple trees like Red Delicious or Cortland, where the low sale price means low profits for the producer.
It's not just the demand for these new apples that is shaping the industry though, club varieties and patented variety names have totally changed the way that apples are marketed as a product. These new varieties aren't just fruit, they're a branded product with strict requirements for quality, packaging, marketing materials, and even apple color. In the case of traditional generic apple varieties, marketing an individual variety like Granny Smith was an exercise in futility - if anyone can sell a Granny Smith, advertising the variety is as good for the competition as it is for the grower advertising. The exclusivity of club varieties changes the game, as clubs vie to market their exclusive apples, and reap the reward. The Cosmic Crisp is a prime example, with a multimillion dollar marketing campaign in the lead up to its release - including commercials and a trademarked slogan: "imagine the possibilities". For the confidence that they are truly getting the best, the Cosmic Crisp has shown that customers are willing to pay. But what's really behind that confidence? What makes "premium" apples so desirable?
Building brand confidence means building a brand standard, and these standards are extremely high. In the case of the SweeTango developed by the University of Minnesota, for instance, apples that don't meet their criteria are sent straight to juicing and cannot be marketed as SweeTango.
The popular Pink Lady, originating from the humble Cripps Pink, has even stricter standards, including rules for labelling, packaging, traceability, and even a specific color range. Apples must meet the official Pink Lady Association color standard - at least 40% colored surface on the same side with a "bold pink to red" intensity - to earn their Pink Lady status.
But the world of club cultivars isn't all rosy. Increasing demand for these popular varieties can put smaller growers in a tight spot. Additional licensing fees, royalty payments, and regional prohibitions in place mean for some growers, popular varieties just aren't available.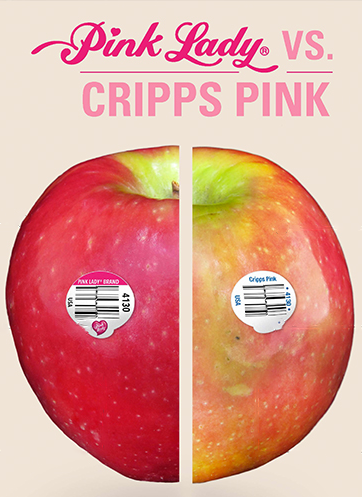 Orchards in states with land grant universities with large agricultural programs like Minnesota and Washington can enjoy the benefits of apple varieties designed to thrive in their unique climates, such as the Honeycrisp, which was designed for Minnesota weather and is extremely difficult to grow in regions like Washington. Regional monopolies, like the Washington exclusive Cosmic Crisp also mean that growers are stratified regionally, and depending on the area, they may just be out of luck for access to club cultivars.
Club
Varieties
and
Quality
Assurance
The strict branding guidelines associated with premium apple varieties means an increased focus on product traceability and quality control. Pink Lady apples must meet not only the physical color and size criteria, but must come from trees that are "certified and fully traceable" to qualify for the coveted Pink Lady stamp of approval. Apple growers around the world are seeking out options for better traceability, faster and easier grading tools, and other post-harvest technologies to improve their quality control process.
In addition to the traceability tools Croptracker provides, the harvest module includes a robust categorization system for separating produce into harvest classes based on size and color. By creating harvest classes with the brand criteria ahead of a harvest, growers can classify their fruit as it comes off the tree. Combined with Harvest Quality Vision, the only computer vision in-field color grading tool currently on the market, growers can pre-sort by size and color profile with a simple scan of a bin, and know right away if their harvest is destined to be a Cripps Pink or a higher value Pink Lady.
---
Croptracker develops agtech solutions for industry leaders. Our mission is to make crop production safer, more efficient, and more profitable. Designed with fresh market producers and distributors in mind, every tool we create is based on direct industry feedback. Croptracker's award-winning farm software optimizes recordkeeping, labor tracking, production and cost management. Our integrative Harvest Quality Vision technology offers instant empirical analysis of crop samples exactly when you need it. Optimize your harvest season with Croptracker's customizable solutions: learn more about our Farm Management Software, or book a demonstration to schedule a meeting with our product experts.