The rich history of apple cultivation has led to over 7,500 different varieties in existence. Commercial production pressures limit the scope of what types can be effectively produced for large markets: size conformity, taste profile, storage life, and so on. But rarer, stand-out cultivars are still maintained and celebrated for their unique delight, history, revival from near-extinction, or the possibility of becoming the Next Big Apple.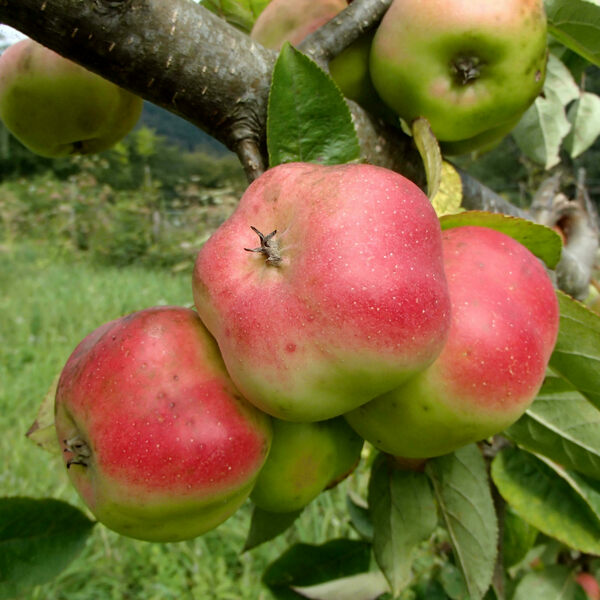 Api-Etoile
Shaped like a star, this apple's ovaries form its rounded points. Cultivation of the Api Etoile started in the 1600s in Switzerland, and is still grown at some specialty orchards.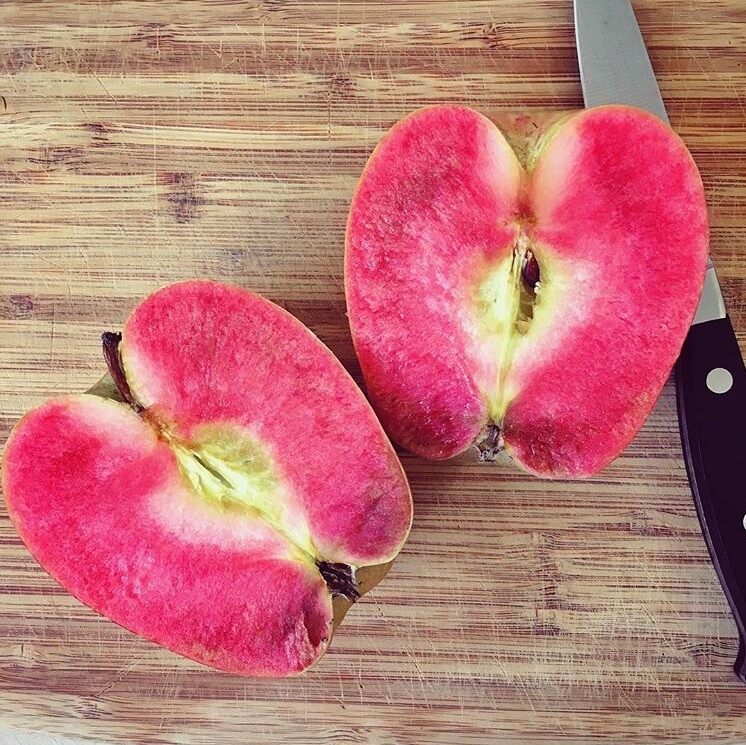 Pink
Pearl
Exterior: yellow-green. Interior? Pink. One of several red-fleshed varieties, breeding of the Pink Pearl started in 1944 in California. The horticulturalist that developed the Pink Pearl also bred dozens of other pink and red interior cultivars. Most are now extinct, but you can still track down this one in late summer on some West Coast orchards.
Temperate
Orchard
Conservancy's
collection
of
lost
apples
Established in 2012, the Temperate Orchard Conservancy (TOC) is dedicated to preserving and sharing tree fruit genetic diversity within temperate climate zones. The TOC is based in Oregon, and focuses its efforts on identification, genetic testing, and cultivation of new trees through grafting.
The TOC has partnered with the non-profit Lost Apple Project to identify and preserve heritage apple trees in the Inland Northwest region of California. The partnership announced in early 2020 that after years of follow-up research for identification, ten apple varieties that were thought to be extinct have been found to remain active in sparse numbers.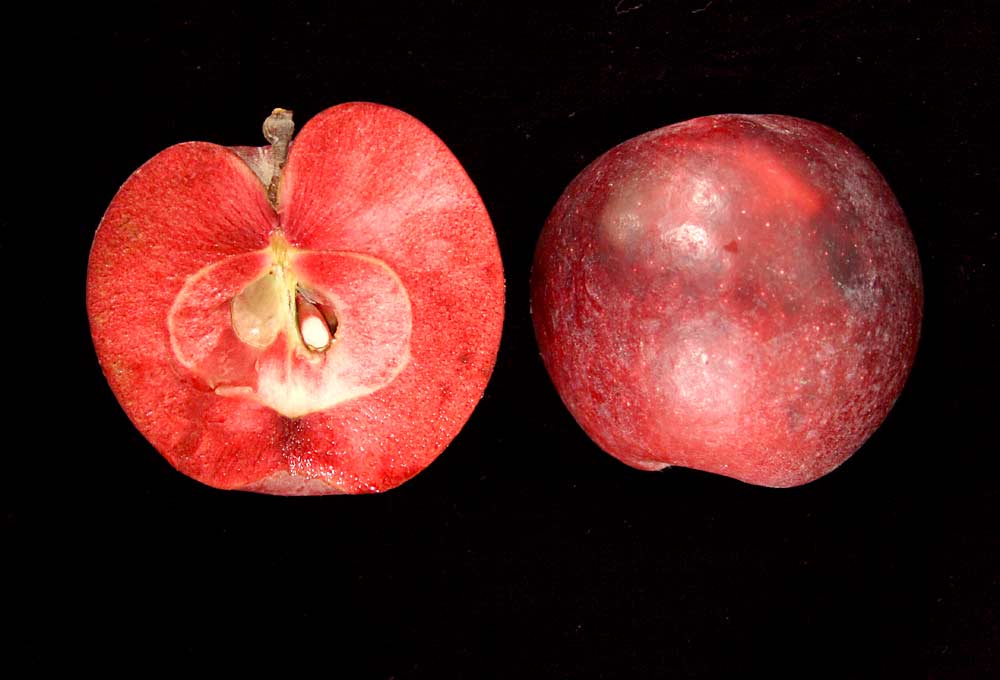 Red
Juice
Varieties
(Cranberry
and
Otterson)
Michigan State University's apple breeding program for red-fleshed varieties began over a decade ago, with the goal of providing commercial producers reliable options for hard cider makers. Steve van Nocker, the horticulture professor who started the program, selected 12 out of 120 red-fleshed cultivars from apple collections around the world. The research team at MSU planted dozens of trees of each variety for evaluation. The results highlighted Otterson and Cranberry varieties as the most viable for hard cider producers, due to their bitterness, sugar and acidity.
Catshed
The Catshead apple is a English heritage breed, and is known to be one of the oldest varieties still cultivated in the region. Ideally suited for cooking purposes rather than eating its tart flesh raw, the Catshed is celebrated at apple festivals in England as one means of ensuring there is a market for it. Catshead apples were brought over to America as one of the first European varieties, and became particularly popular in the Virginia area until the 20th century.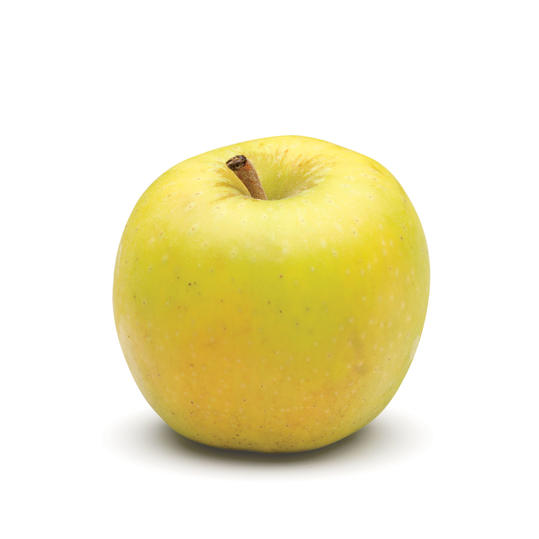 Grimes
Golden
Grimes Golden apples emerged from the USA during the 19th century, and are thought to be the parent of the Golden Delicious that is readily available today. Its most notable qualities include slight russeting and a long stalk that remains attached after picking, and in comparison to Golden Delicious, has a sweeter, spicier taste. The Grimes Golden is a self-fertile variety.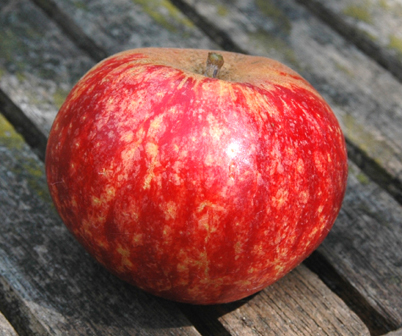 Beauty
of
Bath
Beauty of Bath apples mature early with plentiful fruiting, making them a continued favorite for growing in gardens. Though this breed has good disease resistance, there's no commercial demand for them due to advances in cold storage extending the availability of late-season crops, which are more tolerant of handling. Beauty of Bath can be found throughout southern England.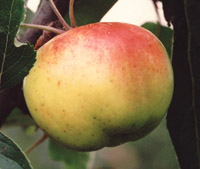 Breedon
Pippin
This cider-friendly variety originates from the beginning of the 19th century by Reverend Dr. Symonds Breedon in the UK. Small and squat, the Breedon Pippin offers an intense, winy flavor. Though it's an excellent choice for cider production, it's currently only found in specialized orchards.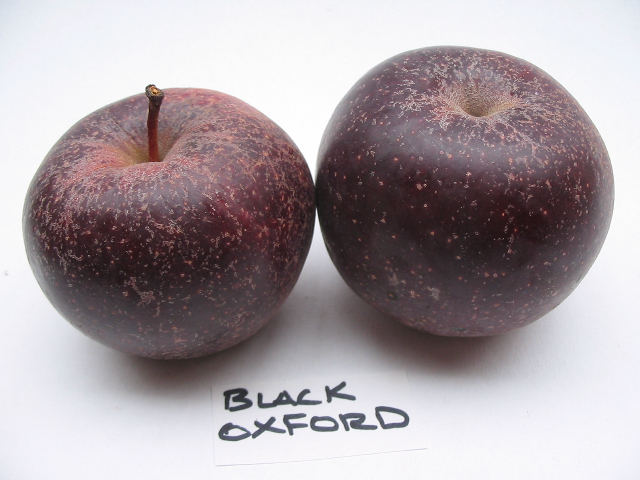 Black
Oxford
Black Oxford apple trees sport light pink flowers in the spring, making it an enjoyable selection as an ornamental. But this Maine variety is also an all-purpose variety with a deep, dark purple fruit. This cultivar can be traced back to a seedling found by Nathaniel Haskell around 1790. Some trees planted not long after the original still stand today in central and southern Maine.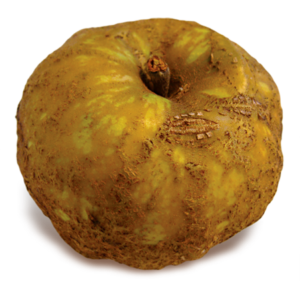 Knobbed
Russet
It's not particularly known for its pristine beauty, the Knobbed Russet has its sweetness and high tolerance for storage going for it. This variety was discovered in the early 1800s in Sussex, England, featuring a lumpy exterior with firm and dense flesh.
---
Croptracker develops agtech solutions for industry leaders. Our mission is to make crop production safer, more efficient, and more profitable. Designed with fresh market producers and distributors in mind, every tool we create is based on direct industry feedback. Croptracker's award-winning farm software optimizes recordkeeping, labor tracking, production and cost management. Our integrative Harvest Quality Vision technology offers instant empirical analysis of crop samples exactly when you need it. Optimize your harvest season with Croptracker's customizable solutions: learn more about our Farm Management Software, or book a demonstration to schedule a meeting with our product experts.