Harvest Quality Vision is here, and it is revolutionizing harvest and quality control for apple growers around the world.
All but eliminating the need for manual size inspections, Harvest Quality Vision, or HQV, is at the cutting edge of the industry, and it is always improving. Croptracker's exclusive technology allows growers to scan a bin of apples with a camera attachment, which creates a 3D model of the scanned fruit. From these scans, HQV analyzes the samples to determine the size, color profile, and quantity of apples scanned in just moments. Far beyond a simple recording software, HQV scanning offers an objective, accurate assessment of fruit characteristics that automatically records, saves, and analyzes data from a scan as brief as three seconds.
Based on extensive testing performed by global apple exporters, HQV's size measurements are accurate within 1-3mm, and occur in just seconds. HQV then builds a detailed breakdown of the color and size distribution of the scanned fruit. With this information stored in the cloud, samples can be assessed in seconds from anywhere in the world, and growers can be instantly alerted to deviations from pre-determined quality standards. Compared to a standard manual inspection, HQV scanning offers expedient, accurate data collection, and instantly creates a report of the QA metrics that growers and packers need.

HQV's most recent software update provides growers with an even better picture of their produce. Since the update went live in July, scan resolution has increased by 200%, leading to an increase in not only the detail of scans, but also the accuracy of measurement. In fact, HQV size measurement is accurate within 1-3mm, and takes just seconds compared with time consuming caliper based measurements. Faster data collection means reduced labour costs, and savings for growers and packers. In terms of quality assurance, conservative estimates based on one global apple exporter suggest millions of dollars in additional revenue could be generated from consistently delivering more apples of higher quality with the help of the HQV.
With a brand new scanning attachment set for release in late August, HQV scanning is easier than ever, even in the field. Orchard managers don't want to wait until packing time to know what they have in storage, and HQV can replace traditional pre-sorting by sizing harvested fruit right in the bin. Pre-sizing and transporting apples to and from packhouses can cause additional bruising and wear and tear on fruit. HQV can accurately size your harvest without risk of damage or wear, before sending it to storage. With a better understanding of the quantitative measurements of products comes a better picture of your storage and inventory numbers, leading to easier decision making and risk reduction.
"HQV will provide growers with an unprecedented vision of fruit characteristics at harvest, post harvest, and pre-packing time" said Croptracker CEO and founder Matt Deir. "We are working towards integrating HQV with other Croptracker modules, to provide growers with insight into their produce at every step of the way."
Moving forward with HQV, Croptracker's development team is eager to improve and expand, not only what HQV can do, but what kind of data can be associated with scans. Currently, HQV data is consolidated with bin data related to a harvest, such as variety, pick data, or chemical use data from spray applications. The next step? Allowing users to attach additional quality assurance data to their scans. Starch levels, sugar and brix levels, pressure test data, and more could soon be associated with HQV scans, creating a complete picture of QA metrics. Croptracker's secure cloud-based storage means that scan data can be viewed from anywhere in the world within moments.
Interested in learning more about Harvest Quality Vision, or being part of our public beta? Book a demonstration today, or check out our video on HQV for apples below!
---
Interested in learning more about Croptracker? Learn more about our Farm Management Software, or book a demonstration to schedule a meeting with our product experts.
And as always, if you're ever stuck, never hesitate to e-mail us at support@croptracker.com or Live Chat with us by clicking the green speech bubble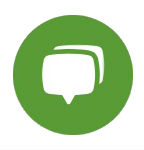 in your bottom right-hand corner. We're always happy to help you make the most of Croptracker to make your farm more efficient, safer, and more profitable!