It's not possible to sidestep the ongoing loom of the pandemic when talking about this year, which has produced seismic and international disruption across industries and personal lives. In the face of these new challenges, we are particularly humbled and grateful for our company's successes in 2020. When reviewing our achievements, we reflect on the impact we have made with our new tools and are energized by our evolving plans for the year ahead.
New
Product
Launch:
Harvest
Quality
Vision
The launch of Harvest Quality Vision (HQV) has connected Croptracker to over 30 major fruit growers, packers, and distributors across three continents. Whether scanning harvest samples happens on the orchard, at receiving, or in conjunction with a packline, knowing exactly what size and color grades are on hand sooner lets our clients work smarter and sell faster. This means big savings on labor, and more opportunity to avoid waste.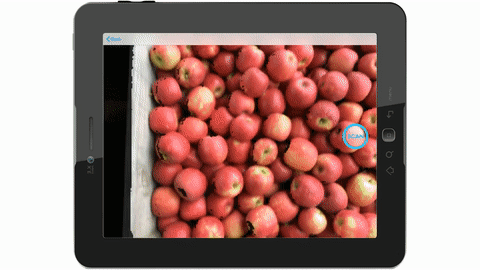 It all started with apples. HQV is now equipped to measure most major round commodities. Most recently we've added avocados, oranges, lemons, and pears to the list – with tomatoes, beets, mangoes, kiwis, and peaches are also compatible with our detection technology.
HQV receiving strong approval from Mount Adams Orchards

"Currently Underwood Fruit & Warehouse Co is using Croptracker to help improve our production efficiencies. After we scan our fruit and gather the data we use this program to help prepare our packing line. By analyzing the data we have a better knowledge of how to set up our drops, people, and bagging machinery. This is also becoming a valuable tool for our sales team. Before we open a room of fruit we can give our sales department a better idea of size profile, and they can adjust sales as needed."
Darin Konrad
Mount Adams Orchards
Cook, Washington
Main Crop: Pears
Early customer feedback during the pilot phase of our product release has allowed for the focused expansion of report formats that organize harvest data in the best way for industry needs. Each report is readily exportable for integration with other important business tools, so there's no need to scrap what's working for you, but improve upon it.
From
V1
to
V2,
and
where
we're
headed
Early next year will bring Croptracker's rollout of the second version of Harvest Quality Vision to new and existing users. The release of the new iPad Pro this year has enabled Harvest Quality Vision to be a more streamlined tool with greater capacity to capture precise sample scans without constraints in full sun conditions. This is great news for pilot users that navigated finding optimal lighting on sunny conditions for scan capture – with Version 2.0, this will no longer be an operational factor.
Appreciating positive feedback from FirstFruits

"I've used Harvest Quality Vision for my 2020 harvest of apples, and can see that I really like this device and the data it collects, from ranges in apples size to having the ability to record color. I've done comparison reports from the data collected from Croptracker to the data we have on our pack out reports. I'm pleased to say I'm happy with the information it gives me per variety. I will continue to use this device going forward."
John Crispin
FirstFruits Farms
Prescott, Washington
Main Crop: Apples
New
arrival:
portal
solution
for
sampling
on
the
truck
During the last quarter of 2020, Croptracker's development team has delved into the early stages of testing a portal version of Harvest Quality Vision. This brings all the capacity of the flagship, portable version of HQV and channels it into a format that can accommodate capture of bins that are slowly moving past sensors, as opposed to the sensors slowly moving over bins. We are extremely excited to continue this modality into the new year, and connect with more growers and distributors who would benefit from a portal solution in their quality assurance workflow!
New
pilot:
QC
module
in
Croptracker's
ERP
offering
We're also excited to offer our new QC module Beta to clients invested in tracking relevant points of quality data while processing their harvests. In the near future, this module will be Ideal for HQV clients who are already capturing quality assurance related data points like size and color, the QC module lets users enter and track metrics like brix and pressure in an easily accessible format for reporting alongside HQV data. Croptracker's QC module will be also available as a standalone option once V1 is officially released. Stay tuned for integration and rollout updates!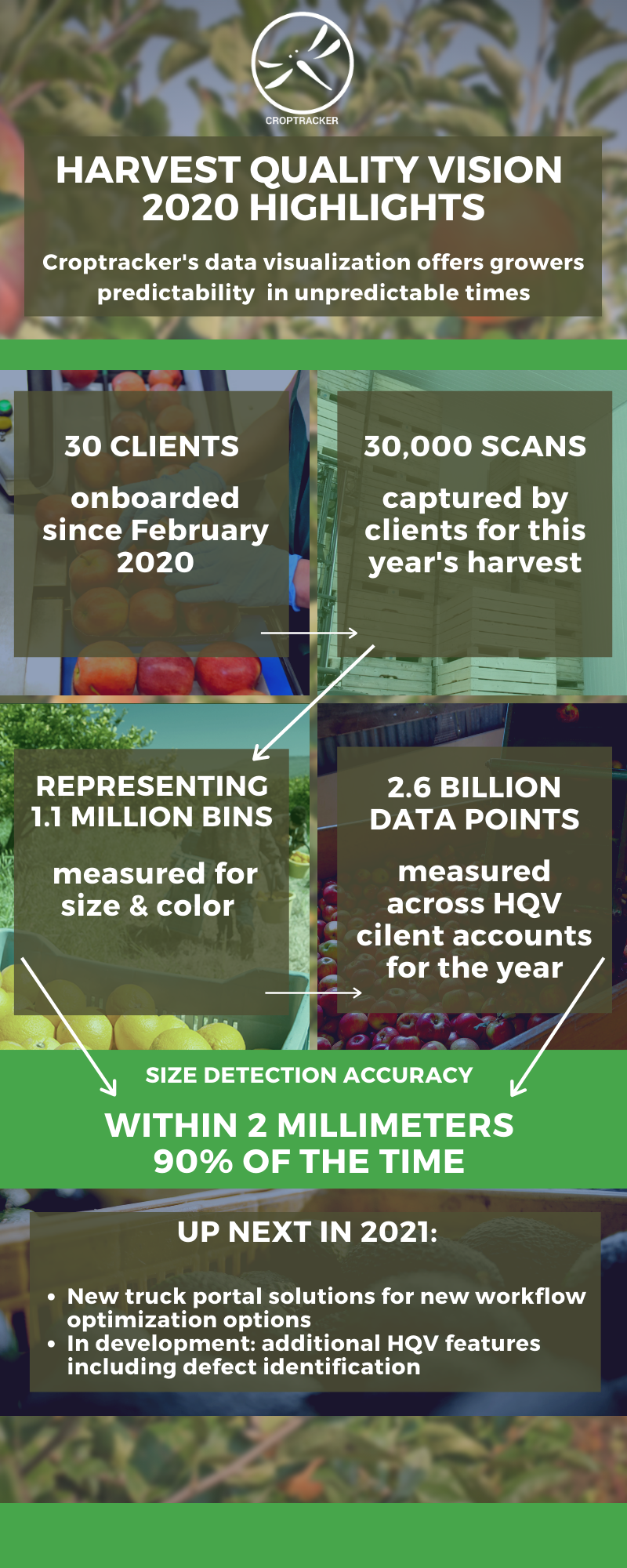 ---