Croptracker's system has always been designed based on the needs of growers, packers and associations. In this case study, we'd like to introduce an important client and development partner of new Croptracker modules: Schuyler Farms in Simcoe Ontario. Brett Schuyler is a former board member with Ontario Apple Growers (OAG) and current CEO at Schuyler Farms, Brett has been in the apple business since 2008.
A Croptracker success story, Brett started small with just one user and two modules to improve his harvest and labor tracking records. Now Brett has brought his experience and expertise to bear for Croptracker's new Quality Control module.
About
Schuyler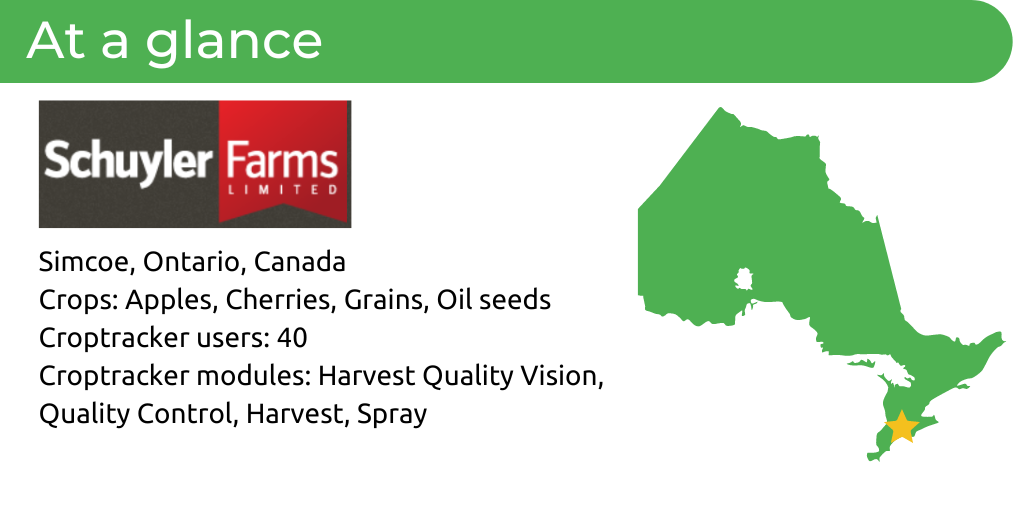 "Located in Norfolk County Ontario, Schuyler Farms Limited is a family farming operation producing apples, sour cherries, grains, oil seeds and grass fed lamb." - schuylerfarms.ca
A long-term customer, Brett started using Croptracker in 2020 with Harvest and Punch Clock to simplify payroll and employee management and improve traceability. Schuyler Farms had tried other punch clock systems and had been relying heavily on spreadsheets to track hours and inventory.
Phase
One:
Getting
Started
"As the apple operation grew, recording and tracking hours manually was becoming an increasing challenge. With Croptracker we have been able to largely automate and simplify time tracking and allocation." - Brett Schuyler
The first piece of the puzzle for Schuyler Farms was the harvest module. For harvest traceability, Schuyler needed a system for bin tagging that would connect labor and inventory. With ten or more crews picking in the orchard at a time, manual inventory and employee tracking were becoming unmanageable. Workers using harvest and punch clock in tandem immediately cut down on double entry and improved traceability. Using the Croptracker app offline in the orchard made it easy to attach employee information to inventory to provide improved traceability.
"Cell phone coverage is unreliable in our area, the Croptracker time clock system being able to work offline and sync is critical for rural use." - Brett Schuyler
Croptracker provided the central platform Schuyler needed to organize their data, much of which they were already manually recording, but couldn't take any further. Schuyler needed to harness their raw data to find out more about how his crews were performing. He started working with the development team to create reports that reflected their workflow and were compatible with their payroll systems.
Using the stationary Punch Clock Kiosk feature to clock in, Brett's employees identified a need to punch workers not just in and out of events they were recording, but in and out of work crews they might be assigned to throughout the day. Brett and the development team wanted to make the Croptracker experience in the field easy and intuitive for his employees. With their input, various quality-of-life features were added like the ability to filter employees by crew in events.
Transitioning to Croptracker had immediate effects, not only saving time in administration; use of the punch-in system also saw improvements in employee punctuality.
Phase
Two:
Established,
API
adoption,
and
expansion
into
additional
modules
In 2022 Brett and Schuyler farms started working with the development team to use the Croptracker API. With such a large number of workers each season, they needed more flexibility in exporting their data and integrating their records with their other sources of data.
What
is
an
API?
API stands for Application Programming Interface, and it's a piece of code that enables the majority of the web-based tools relied upon today. APIs allow for applications to send and receive data between each other. The technology offers broad use cases: devices can connect to the internet, define networks, and allow for IoT devices to function. But APIs also allow a user to build the ideal digital systems and workflows for their business, by linking information through integration from different programs to enhance the utility of tools at hand.
This upcoming year Brett is planning to transition his spray records to Croptracker too. Brett is eager to combine all functions of his record keeping under one platform. Through the Spray module Brett will be able to take advantage of Croptracker's spray and chemical tracking features. In Ontario, apple growers using Croptracker can access a full database of approved chemicals, including application information, worker safety requirements, and chemical labels. Users can even track the costs and available chemical inventory. A critical feature at audit time, Croptracker makes chemical tracking easy with chemical use reports and worker safety reports that monitor preharvest intervals (PHI) and reentry intervals (REI).
The spray module includes a number features to make it easy to instruct employees and ensure workplace safety standards are in place. Croptracker creates spray instruction sheets that can be printed out to give to workers in advance, which include personal protective equipment instructions along with application details and relevant applicator licenses.
Phase
Three:
Harvest
Quality
Vision,
and
partnership
in
new
module
development
As an apple grower, Brett's interest was piqued by Harvest Quality Vision, Croptracker's exclusive computer vision system, which launched for apples in 2021 and has been adopted by apple growers as far away as New Zealand. Harvest Quality Vision provides size and color information on scanned fruit.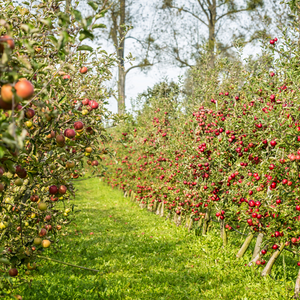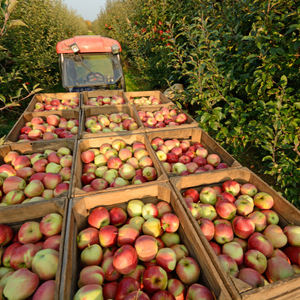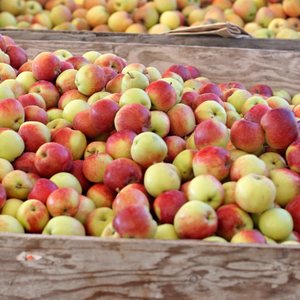 Brett's enthusiasm for HQV made him an ideal candidate for partnership, and in 2022 Schuyler farms became a development partner for the new Quality Control module. Working with the team as a development partner, Brett provided data and guidance for integrating quality control into a harvest workflow. Brett's workers started scanning in the field at the bin tagging stage, enabling them to link quality data to each lot of bins for traceability.
Working with Brett and his staff provided valuable insight into the quality control process for orchard fruit. Quality control is a critical step in the food supply chain, but requirements can vary a lot depending on the type of crop. Apples may have totally different requirements from cherries, peaches or tender fruits, and he needed something that could be tailored to a specific commodity.
The Quality Control module is a powerful tool that can be used to create completely customized inspection templates. With the QC module, growers can specify defects or features to watch out for, and decide how they are recorded. Custom specs mean that additional information of any type can be attached to harvested inventory - the sky is the limit to what you can record with this extremely versatile module!
With custom inspection templates, Brett had the flexibility he needed to create quality control systems for a variety of crop types. With inspection templates created to spec, Brett used Croptracker to train employees to identify defects and document them in the orchard. Alongside Harvest Quality Vision scans, which provide size and color data on scanned fruit in just seconds, Brett's workers started attaching quality control information to each harvested bin in Croptracker.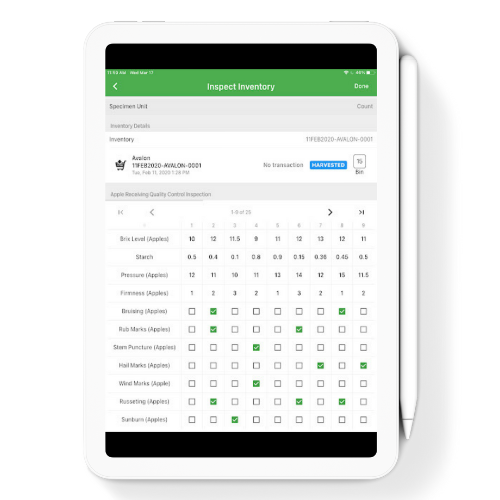 The ability to access this information from the cloud and review size and quality data in real time is especially critical in the apple industry, where storage decisions happen fast. Rapid, accurate sizing and color information from an HQV scan can be assessed anywhere, and allows crew managers to provide immediate feedback and course correction to pickers, even from back in the office.
Looking
forward
Over the past three years, Schuyler Farms and Croptracker have done amazing things together, and more is in the works. Brett's invaluable experience and knowledge of the orchard industry has provided direction and insight for the development of Croptracker modules.
With access to Croptracker's modular system, Brett has been strategic in his adoption, planning for next season in advance to effectively introduce modules year by year. This staggered roll-out allowed Brett to work alongside the Croptracker team to create workflows and implement them in stages on the path to a fully digitized farm record keeping system.
Croptracker's integrated farm management system lets growers start small and scales with their needs. Like Brett, it is easy to start with a single module and grow into a full traceability system with Croptracker.
---
Croptracker develops agtech solutions for industry leaders. Located in Eastern Ontario, Canada, our mission is to make crop production safer, more efficient, and more profitable. Designed in partnership with fresh market producers and distributors, every tool we create is based on direct industry feedback. Croptracker's award-winning farm software optimizes recordkeeping, labor tracking, production and cost management. Our world leading Harvest Quality Vision technology offers instant empirical analysis of crop samples exactly when you need it. Optimize your harvest season with Croptracker's customizable solutions. Visit Croptracker.com to learn more about our products and contact us for app-based solutions.