Effective workflow advancements in agriculture can't happen from the sidelines. When Croptracker CEO Matt Deir reflects on the company's oldest relationship with Tregunno Farms, he's brought back to one of his early RFID product development discussions with Ryan Tregunno, manager of the post-harvest side of the business.
Meeting at a highway-side Tim Horton's, they brainstormed how to solve Ryan's traceability problem in the most cost effective way. What initially seemed like a workaround at that time led to the streamlined post-harvest workflow that the operation continues to rely on. Every Croptracker feature is created based on real feedback, from real growers. This partnership began over seven years ago – and it's just one practical example of Croptracker exercising its core priority: collaborating with growers and distributors to solve industry problems that matter.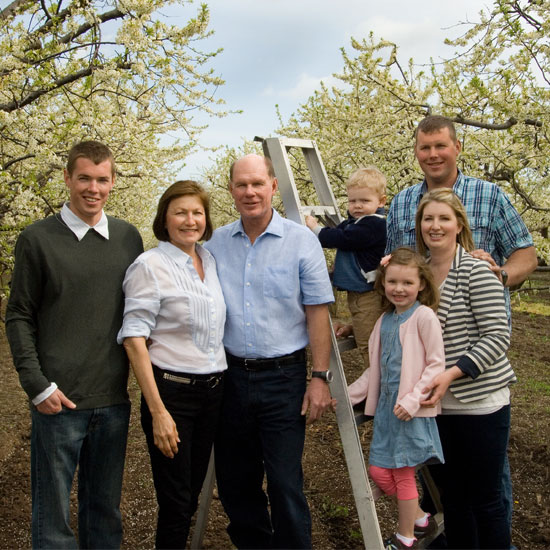 About
Tregunno
Farms
and
Vinelands
Co-op
Tregunno Farms is the largest peach grower in Ontario. The family-run farm harvests 800 acres of tender fruit every season, including nectarines, apricots, organic table grapes and wine grapes. Alongside the other members of the Vineland Growers Co-operative, the Tregunnos are champions of the 'eat local' mantra, and continue to cultivate community within the industry.
Vineland Growers was established in 1913, making it the longest continually run co-operative in Ontario, Canada. Specializing in tender fruit, Vineland distributes peaches, nectarines, cherries, plums, grapes and pears that are all grown on family farms through the region. The co-op greatly values innovation for improving its services and processes, which has enabled development partnerships like the one involving Croptracker and Tregunno Farms.
Growing
a
project
together
When identifying a need to reduce the spike in paperwork that came from CanadaGAP compliance standards, Ryan determined that it was time to find a digital solution to much of the required manual input. Being that the Tregunnos are tender fruit growers, harvest time is swift, with storage flipping entirely every day. This means pallet tracking needs to be effectively restarted daily, while still maintaining strong traceability of where a pallet came from.
"I connected with Croptracker through a Tenderfruit marketing board focus group," said Ryan. "When I spoke to Matt about our farm's storage workflow, he wanted to try collaborating with me on a more technically refined approach to our very analogue traceability system at that time."
The recipe card approach entailed placing one on every harvest pallet that identified its origins, before moving it anywhere further. Though this was relatively effective in accomplishing traceability, it also was cumbersome. When hashing out the needs and dependencies of the scenario together (remember that Tim Horton's?), the major constraint on the project was monetary.
The CanadaGAP Program

The CanadaGAP Program rolled out in 2012, with full Canadian government recognition arriving by 2017. It's run by the not-for-profit corporation CanAgPlus, and adheres to both Canadian federal food safety parameters and Global Food Safety Initiative (GFSI) benchmark requirements that reflect Good Agricultural Practices (GAPs). Technical standards – like food safety manuals, audit checklists, and more – are maintained by the CanadaGAP program, and its benchmarks parallel some of the highest industry safety criteria internationally.
Geared to fresh produce operations, CanadaGAP's manuals are based on hazard analysis that applies the principles of Hazard Analysis and Critical Control Point (HACCP), an internationally-recognized approach. Certification for operations indicates that the operation has a system of procedures that minimizes contamination risk, and so audits assess the ongoing maintenance of a food safety system as opposed to a particular product or moment in time.
Meeting the high-set standards of CanadaGAP requires comprehensive documentation of production practices from growers and distributors. Since retailers are looking to buy from operations that prioritize verifiable standards, it's critical for the Canadian fresh market to have effective data capture and tracking tools at one's disposal.
Though it doesn't have to be digitally tracked, migrating away from paper-based traceability can greatly save time tracking procedures from day to day, and even more so when an audit happens. Croptracker's ERP suite is CanadaGAP compliant, which also means it's GlobalGAP compliant. Perform a self audit at any time with over 20 GlobalGAP reports available – review traceability and recall plans with the mock recall report, qualify for global food safety certifications, and share reports easily with anyone who requires them.
Making
RFID
technology
financially
accessible
Implementing RFID technology in fresh market storage is already established, but it depends on the nature of the commodity for whether it is worth the investment. "There are existing RFID tags out there that are disposable stickers, but something like this only makes sense to use for crops in long-term storage," Matt explained.
"When we looked at sticker options at the time, they worked out to be about $1 each. If you're tagging apple bins, that expense is reasonable because each tag will be representing that bin's information for you over a season, until it's time for packing. In the case of the Tregunno Farm, they're using rotating pallets so frequently for new incoming fruit, that it's not viable to burn through so many single use tags. So we needed to come up with a cost-effective, reusable RFID solution."
The first version of this was repurposed cattle tags because of their low cost – each were associated with a bin or pallet to store harvest information, and one could locate the bin within the tag's scanning range. The problem with this approach, however, was that the range distance was not long enough to be effective. Then Matt found RFID badge cards as a range workaround.
"One of the driving factors was the lack of connectivity in the orchard. How do we get around this affordably? With badge cards, the scanning range capacity was increased compared to the cattle tags, and each badge has numbers written on them for tagging pallets," explained Matt. "And they don't require any connection when they're out on the orchard. The information is available once in range, so essentially the workflow has a built-in 'offline mode'."
The
innovation
payoff
Between this RFID innovation and a new packaging equipment system, Ryan's post-harvest workflow has doubled the daily throughput. "When we're in the full swing of harvest season, you can walk up to any pallet in storage and have the information you need about it, from tag numbers that rotate daily. We run 1600 totes an hour, and the whole storage area flips every day. I program the tags the night before to detail the number of totes, the block that they're coming from, crew, location – everything.
"This info gets validated in our system as pallets pass through a sensor at the storage area. The forklift operator has an iPad mounted on the vehicle, which allows them to see what's coming in from where, and direct where things should reside." RFID-labelled products can have their information automatically recorded in Croptracker's Harvest, Storage, and Packing modules, which enables enhanced traceability and recall management if needed.
---
Many years and countless software advancements later, our goal remains the same: to work with our clients to develop powerful solutions for common agricultural issues. Designed with fresh market producers and distributors in mind, every tool we create is based on direct industry feedback. Optimize your harvest season with Croptracker's customizable solutions.