If it's not disease, and it's not insects - it's birds that are the menace attempting to harvest your crop prematurely. Mitigating crop damage done by pests is a delicate matter, as maintaining healthy biodiversity and avoiding undue harm to regional species is a universal responsibility. How can growers successfully deal with bird related impacts to their livelihood, while not striking a heavy blow to species populations? Bird Control Group (BCG) is a company focused on achieving that balance, offering growers tech solutions to crop protection that uphold that stewardship. Providing award-winning, innovative products to keep birds at a distance from commercial activities, one of its primary offerings is laser scarecrow technology that harmlessly deters birds from the area.
AVIX
Autonomic:
Automated
bird
repellent
system
The AVIX Autonomic is a versatile laser solution to repeatedly deter birds from crops and other commercial spaces that need to be avian-free. Its modular design allows users to easily replace key components on site. Readily customizable, its wireless connectivity offers onsite configuration (like choosing the timing for when the laser is active), and frame variations offer options for mounting the system on walls, flat surfaces, or poles as desired. In action, it's a 24/7 bird repelling machine. Birds perceive the green laser beam as an approaching physical danger or predator, and fly away. After consistent use, birds will consider the area unsafe and will not return.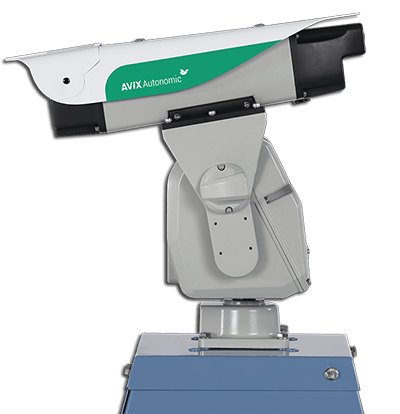 An AVIX Autonomic unit with shade attachment.
AVIX Autonomic in action.
Case
studies
Stockbridge
Technology
Centre
The AVIX Autonomic boasts the capacity for high rates of success. One featured case study highlights the success of the BCG bird deterrent tech is from the Stockbridge Technology Centre (STC) of North Yorkshire, UK. Grower led, the independent horticultural initiative aims to nurture and encourage continued technological developments for its industry. Its testing on the Autonomic bird repellent system included two different fields of crops: cabbage, and sprouts. When birds (in this case, namely pigeons) attempt to access the crops, a threatening yet harmless laser beam is activated, and the pecking damage that otherwise would have been is prevented. The STC reported a 90% bird reduction compared to prior to the installation of the AVIX Autonomic.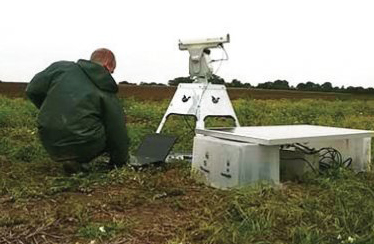 Agrícola
Calandria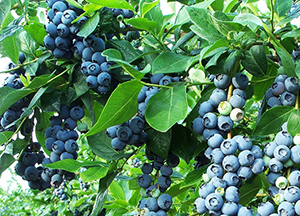 The Agrícola Calandria blueberry farm used to incur great damage from Chilean eared doves. Prior to installing BCG's Autonomic laser technology, the farm attempted to thwart birds by having classic scarecrows and plastic ribbons throughout the field. Unfortunately, this wasn't effective, nor was it aesthetically desirable. The AVIX Autonomic's green laser beam is interpreted by the birds as a threat to steer clear of –unlike the farm's previous attempts at spooking them off, which proved to annoy the growers more than anything. In comparing the results of the harvest from pre-installation and post, the blueberry yields substantially exceeded previous trends without BCG's system.
Agrícola
El
Lingal
In another example from Chile, parrots are the nuisance, and almonds are the crop in need of support. Agrícola El Lingal has 47 hectares of almonds, located in the Maipo Valley. In recent years there has been an uptick in parrot populations, which have significantly impacted the almond growers in the region. Parrots are a protected species, and so mitigating their impact without causing harm is that much more of a priority. Since utilizing the Autonomic laser bird deterrents, parrot presence in fields has decreased considerably, relocating from crops to nearby trees. The growers estimate damages have decreased 80%.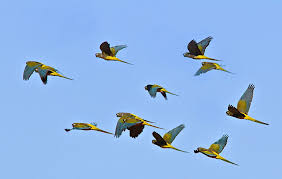 Croptracker, like other agricultural innovators, aims to make global food production more efficient, safer, and more profitable. Completely modular, users pay for only what they need. With customers in 41 countries, Croptracker collaborates with growers to continue innovating and improving our farm management software. Let one of our expert staff guide you through all the features available and answer any questions you have. We are here to help.
---
Interested in learning more about Croptracker? Learn more about our Farm Management Software, or book a demonstration to schedule a meeting with our product experts.
And as always, if you're ever stuck, never hesitate to e-mail us at support@croptracker.com or Live Chat with us by clicking the green speech bubble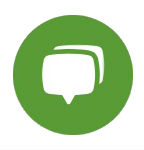 in your bottom right-hand corner. We're always happy to help you make the most of Croptracker to make your farm more efficient, safer, and more profitable!